Fornax
SKU:
Regular price
Sale price
$720.00
Unit price
per
Sale
Sold out
FORNAX 10 LighTrack Mark II  - Mobile Tracking Mount for Astrophotography
AVAILABLE NOW FROM UK STOCK!
The amazing unguided tracking accuracy of the NEW Fornax 10 LighTrack II is in its own league. Capturing pin sharp stars at 200 mm or more focal length has never been easier. The LighTrack II also presents the best available value-for-money price without any compromise. Most DSLR camera exposures are around 6 minutes or less.

The peak-to-peak unguided tracking error of the LighTrack is around 2 arcseconds, and sometimes it gets as low as 1 arc seconds peak-to-peak. This is a significantly lower value than most competing products feature and is comparable to tracking precision of very serious, observatory level heavy-duty telescope mounts, like a Paramount.
All LighTrack units are individually calibrated at the factory, so you do not have to worry about the tracking rate. Measuring and adjusting the tracking rate is not an issue anymore, since this unit runs at just the right speed to prevent your images trailing.

The LighTrack provides you with optimum tracking accuracy due to strict production tolerances and it is guaranteed to stay reliable for years to come. At the heart of the LighTrack is the precision motor and friction drive that will track for 1 hour and 48 minutes. Once that's over, you can go back to start position within about 11 seconds. (bear in mind, obviously, you'll then have to find your object again...)

The Fornax 10 LighTrack Mark II can be powered by a 12V DC source with a center positive 2.1mm/5.5mm jack plug widely used for powering astronomy equipment, i.e. Celestron, Skywatcher telescopes, Astrotrac and other devices.
A 12V cigarette lighter-type adapter cable is included, but there are other ways of powering it as well, i.e. when you travel you might want to use a mains socket. 


At first we started supplying it with a 12DC Mains Adapter (PSU), but as using mains power supply doesn't really make it mobile, we decided that a car adapter cable is a better choice to include. 
A mains puwer supply adapter is available separately, but if you decide to buy one, it will be your responsibility to use it safely. These are usually designed for internal use, so when you use it outdoor, make sure that you use a socket (or extension) that provides RCD protection. Stand alone RCD masterplugs are also available from various suppliers, so for your maximum safety we would recommend to use one of those between the extension (if you use an extension) and the property's mains supply.
The Fornax 10 is also compatible with our 12V AC Adapters, 12V power tanks from Celestron and Skywatcher and with the Astrotrac Battery Holder.
A polarscope adapter ring that allows to use a Skywatcher EQ5 polar scope is included for free. 
SCOPE OF DELIVERY
Fornax 10 LighTrack Mark II

Polarscope adapter ring

12V car adapter cable
MAGAZINE ARTICLES, REVIEWS, TESTS





Review of the Fornax 10 LighTrack mark II  by the Sky at Night magazine. Click here for the PDF version!

WATCH A FORNAX 10 Mark II TRACKING MOUNT USER REVIEW ON YOUTUBE:


WATCH THE FORNAX 10 Mark II TRACKING MOUNT INTRO VIDEO ON YOUTUBE:
USER CONTRIBUTIONS
Veijo Timonen from Finland provided his first images taken with a Sony a7s on a Fornax 10 Mark II with various lenses up to 600mm focal length.
 PRODUCT IMAGES
The housing of the Fornax 10 LighTrack Mark II is made of a extremely strong carbon composite material that is also very nice, soft to touch.
The rest of the body is made of high quality aluminium alloy that makes the whole construction rubust, but lightweight.


Center positive, 12V DC connector, same as used in most Celestron and Skywatcher telescope mounts.
An Autoguider port has been added to the new, Mark II version of the Fornax 10 LighTrack, but due to lack of space on the electronics, a smaller jack socket had to be used. An adapter, providing a standard ST4 port will be shortly available and included with the device.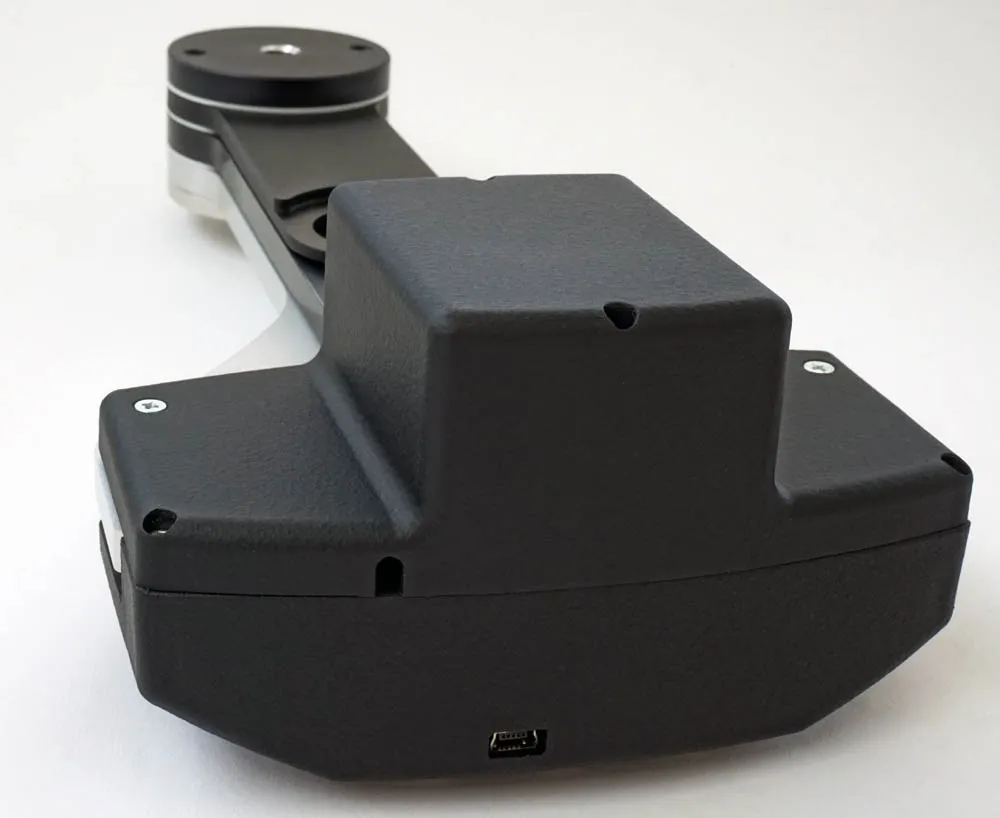 A Mini USB port makes it possible to upgrade the firmware in the future. There are plans to add a "Polar Align Assist" function that would be very helpful for those customers who cannot polar align using Polaris, i.e. customers near the equator or if view of Polaris is simply blocked by a building or trees from their location.
A retractable arm holds the optinal polarscope. An adapter for a Skywatcher EQ5 polarscope is included with the device for free. 
Another image of the same test...
Share
View full details