Retevis
SKU:EU-A9131AX1
Regular price
Sale price
$157.00
Unit price
per
Sale
Sold out
AILUNCE HD1 DMR Digital VHF/UHF Handheld Radio With CTCSS/DCS TONE SQUELCH.
long range waterproof walkie talkies for Business, outdoor activities.




Supports both digital and analog modes, compatible with existing analog systems, users can gradually switch analog terminal settings according to budget and actual communication needs.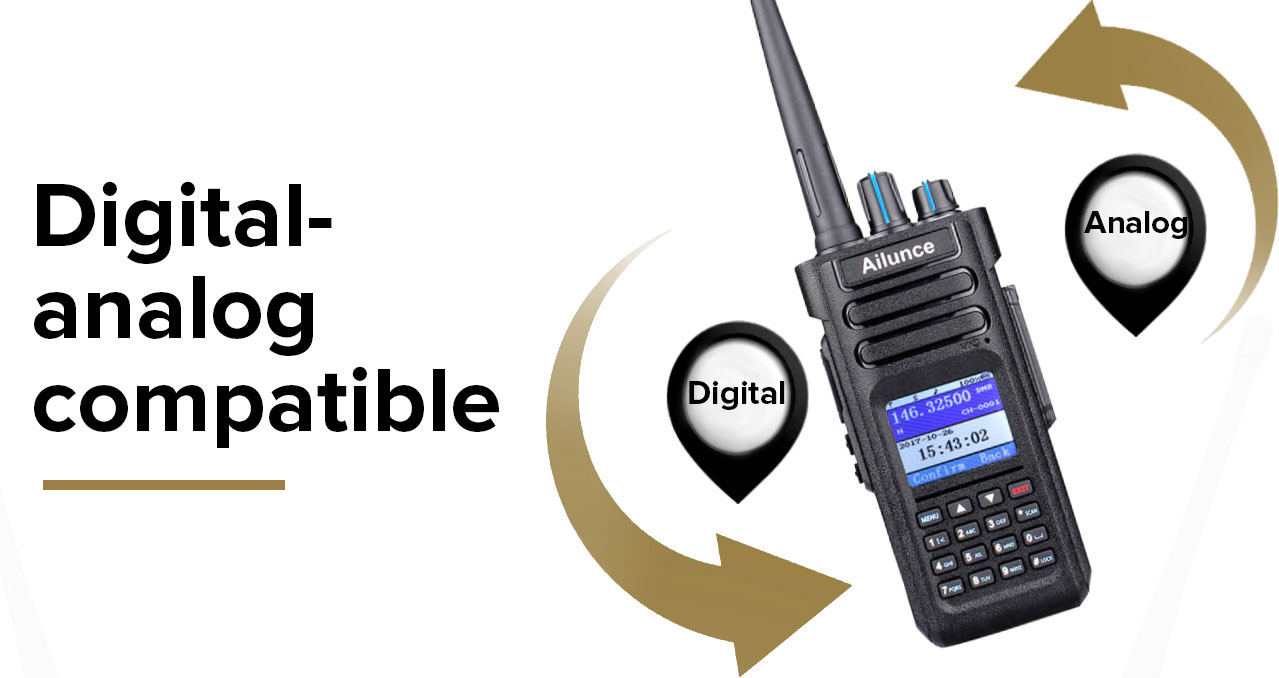 Dual time slot for point to point supports two group calls in one channel under direct model; 3000 channels, 20000 priority contacts enable you to call the people important to you more convenient.




Waterproof walkie-talkie HD1 has VFO mode; very easy to learn and use.3200mAh battery enable normal use 7 days standby / 2-3 days typical use / Continues use 12-16 hours.0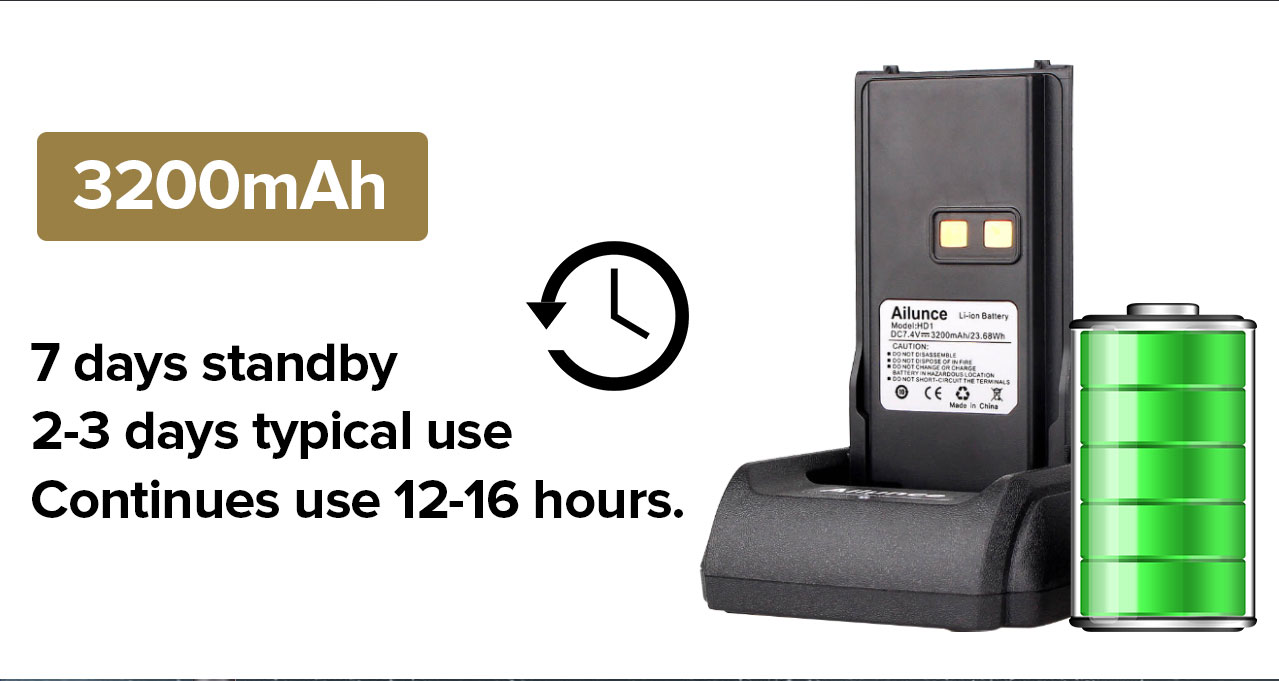 HD1 has GPS positioning function, GPS function gives you latlong; altitude; bearing; and speed information SMS function support to text the information to another radio with the same DNA protocol. In the event of an emergency, GPS can be used to locate the team's location for emergency rescue.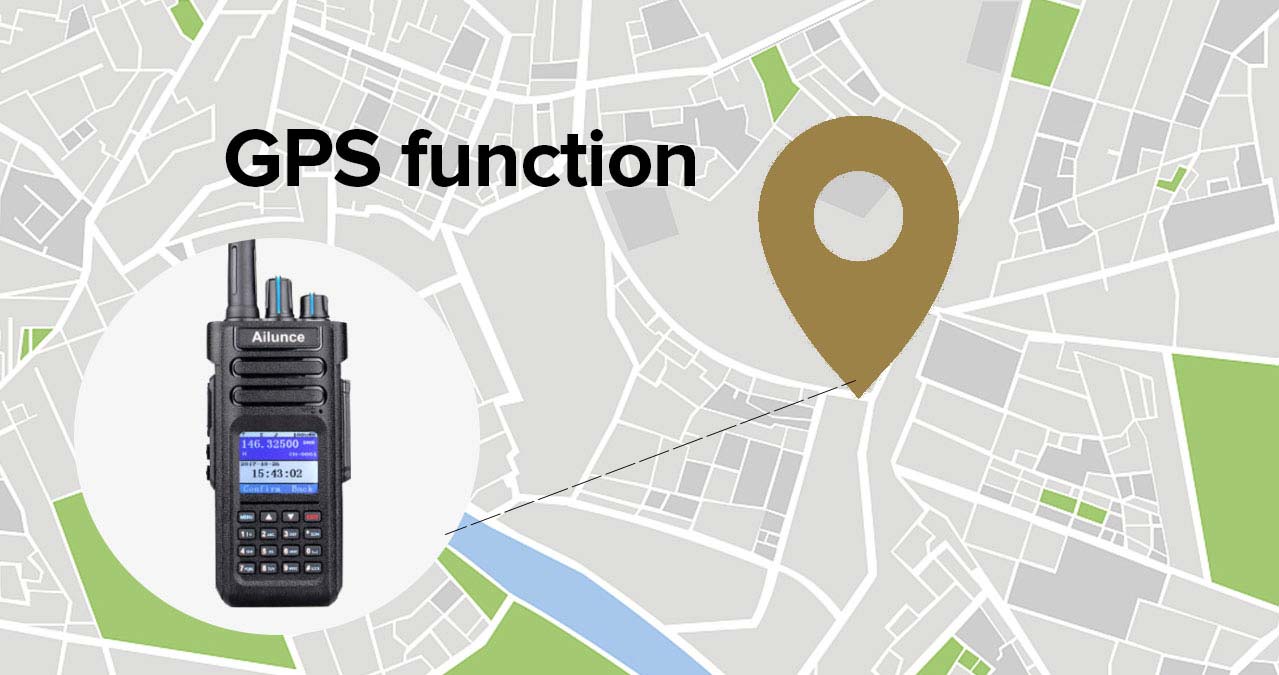 IP67 waterproof rating, can be immersed in 1 meter of the water for 30 minutes,waterproof and dustproof function, can be used in rainy and snowy weather, very suitable for outdoor skiing activities.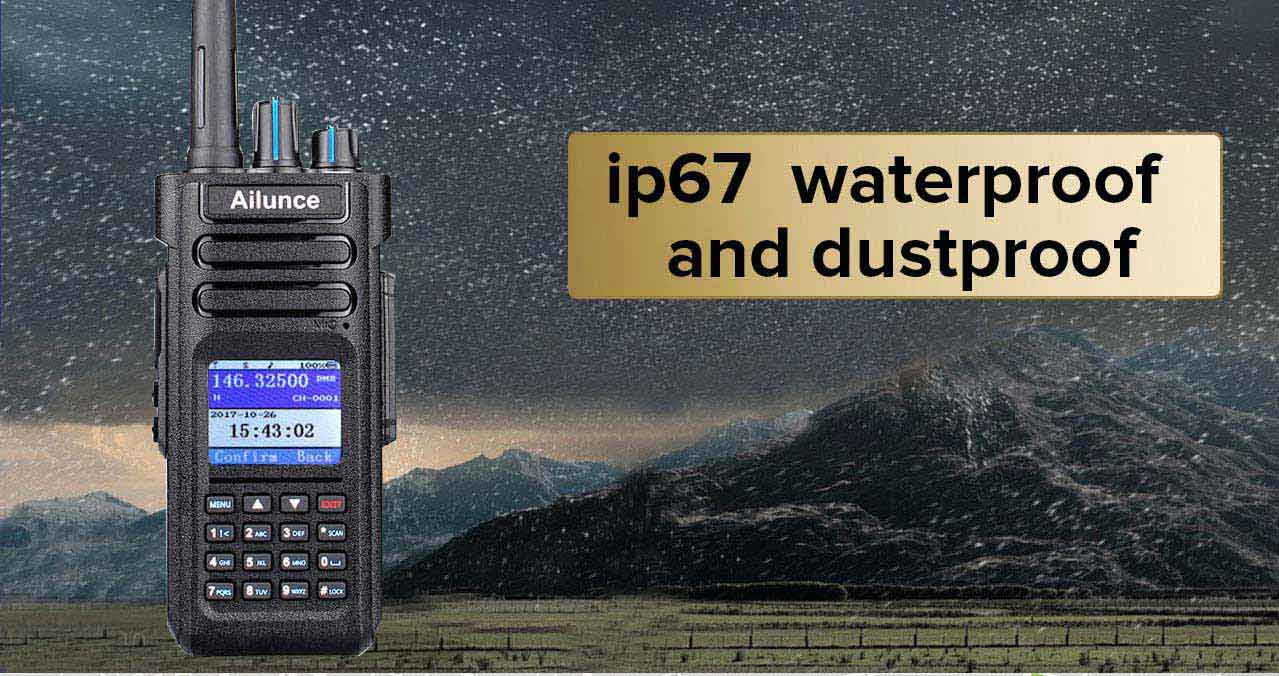 package and details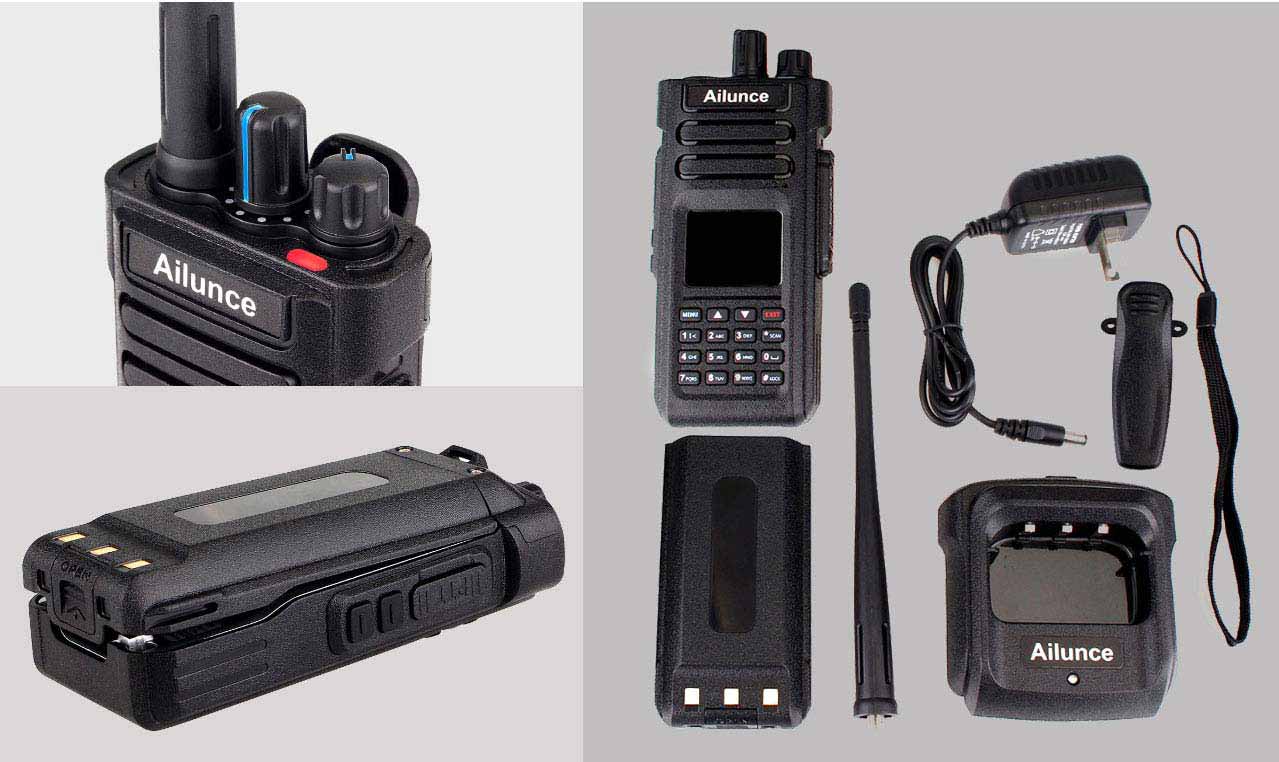 Spec
Frequency
136-174 /400-480MHz  /76-107.95MHz (Receive only )
Channels
3000
Operating Temperature
-30℃~+60℃
Operating Voltage / Power supplied voltage
7.4V DC / 12V DC
Dimension / Weight / Display
150 x 64x 40mm / 360g (with battery ) / LCD Colour
Channel Spacing
Analog 25/20/12.5KHz /  Digital 12.5KHz
Battery Type / Battery Capacity
Li-ion / 3200mAh
Global Position System (GPS)
TTFF – 49sec Cold start / 8sec Warm start  /  Horizontal accuracy ≤2.98meter
Antenna Impedance
50 Ω
Transmitter
Transmit Power/ Current
VHF 10W/5W/1W  / UHF 8W/4W/1W - Selectable
Frequency Stability
+ - 1.0 ppm
FM modulation mode
12.5KHz@11K0F3E 25KHz@16K0F3E
4FSK Digital Mode
12.5KHz(data only):7K60 FXD / 12.5KHz (data and voice):7K60FXW
Modulation distortion
<5%
Vocoder
AMBE+2TM
Adjacent channel power
60dBm@12.5KHz / 70dBm@25KHz
Audio Response
+1~ -3dB
Digital Protocol
ETSI-TS102 361-1,-2,-3
Receiver
Analogue Sensitivity
0.16 uV (12dB SINAD)
Digital Sensitivity
0.14 uV (5% BER)
Inter modulation
70dB
Spurious Response
TIA603C:75dB ETSI:70dB
Audio Response
+1~-3dB
Rated Audio Distortion
≤3% (Type)
Audio Power
≥500mW
Feature
General Specifications:
GPS Function: Gives you lat long, altitude, bearing, and speed Support to text the information to another radio with the same DMR protocol.
VFO mode: Supports VFO and Channel model switch easily via EXIT key.
Group call match: Call freely without group restrictions.
Dual time slot: Supports Dual time slot and point to point
ID Setting: Supports save and edit radio ID via keypad FM Function: Support receive signal from other radios when you listening radio
Dual Band DMR Radio
Analog and Digital Combined
Compatible with Motorola Tier Ⅰ&Ⅱ
200000 Contacts
1000 Priority Contacts
Dual Time Slot for Point to Point
Firmware Upgrade-able
IP67 Waterproof
Scan:Time/Search/Carrier
Lone Worker
Single/Group/All call
Remote kill/stun/activate
Color LCD Display
Transmit/Transceiver interruption
CTCSS/DCS
Analog Monitor
Comply with Digital Protocol ETSI TS 102 361-1,-2,-3
VOX
TOT
Talk around
Squelch
Keypad Lock
LED Indicator
Password Lock
Battery Save
Voice Annunciation 
Share
View full details