Retekess
SKU:TT105
Regular price
Sale price
$414.00
Unit price
per
Sale
Sold out
Retekess TT105 Wireless Tour Guide System .
TT105 tour guide system 2.4GHz
One-key Receivers channel synchronization function
Worldwide free license Two-way communication for the two guides
You can charge 40 devices at the same time with the charging case
This package includes 2 transmitters and 38 receivers and one 40 port charging case.
You can also buy 4 transmitters and 36 receivers, it is based on your needs.
Retekess TT105 tour guide system with 2 transmitters and 30 receivers with one 32 port charging case
Function:
•Transmit frequency 2400-2480 MHz; Real digital transmit;
It is free to use all over the world, no need to worry about a licence.
•50 channels
It can work for 50 groups in one place, just keep them in a different channels. 
•Working with unlimited Receivers
•Two-Way communication; allowing two-speaker to speak at the same time; 
The two transmitters can talk to each other. 
•1500mAh lithium battery of transmitter;1000mAh lithium battery of Receiver
10 hr continuous work time for the transmitter, 12 hr continuous work time for the receiver
•One-key Receivers channel synchronization function
•Transmitter has 4 levels volume; Receiver has 9 levels volume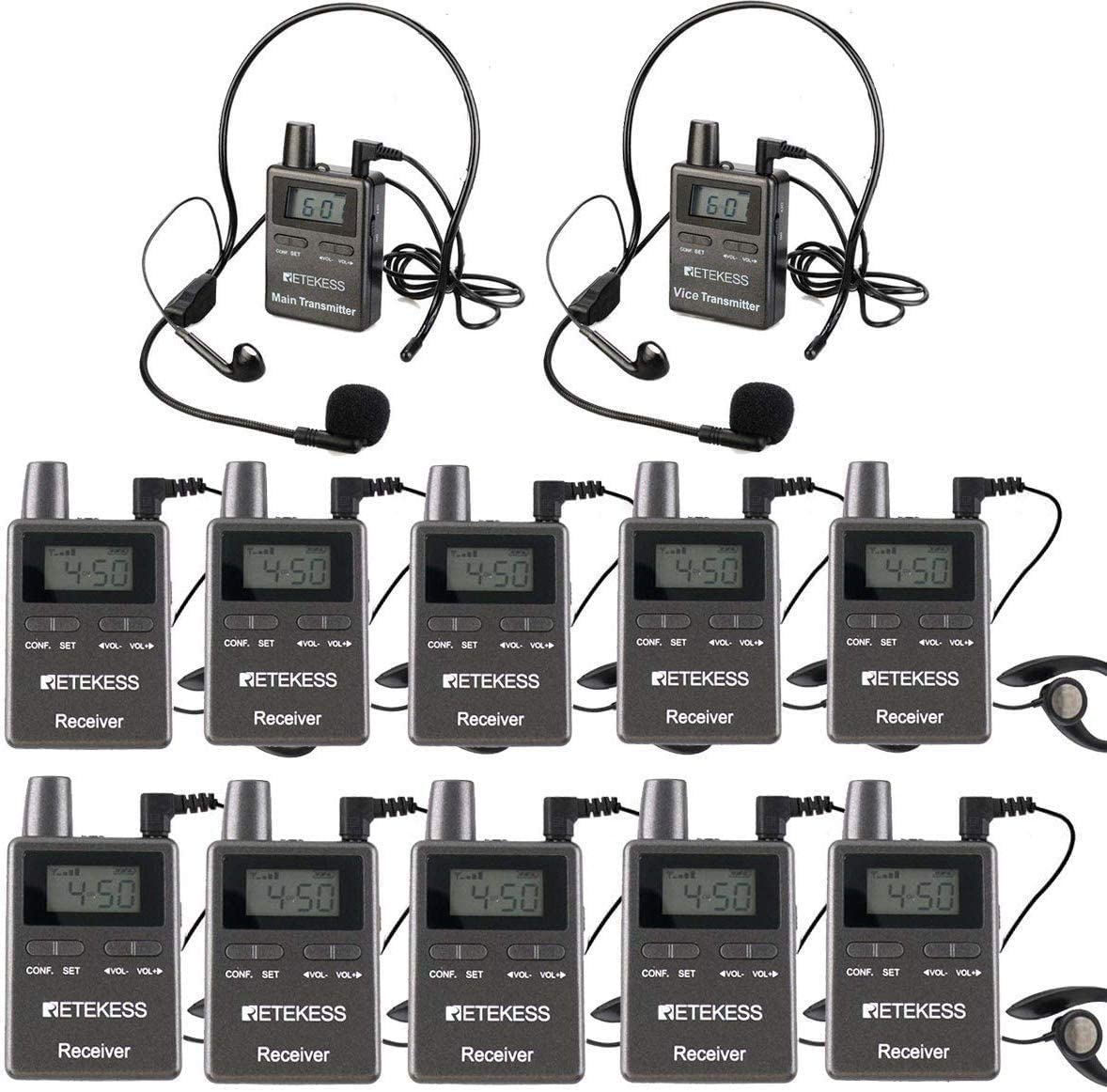 Transmitter:
Frequency range: 2400-2480MHz
Channel: 50 channels
Output power: 10mW
Power supply: Built-in 1500mAh lithium battery
Working time: About 10 hours
Working distance: 150 meters (open-air)
Size: 84 x 49 x 19mm
Weight: 60g
Receiver:
Frequency range: 2400-2480MHz
Channel: 50 channels
Power supply: Built-in 1000mAh lithium battery
Working time: About 12 hours
Size: 84 x 49 x 19mm
Weight: 52g
Charging case
32 Ports for charging case Retekess TT105 
Input: AC110-220V, 50/60Hz
Output: DC 5V, 16A
Size: 425 x320x 183mm
Weight: 4800g
Package Includes:
1 x Main transmitter
1 x Vice transmitter
38 x Receiver
2 x Microphone
38x Single earphone
40 x Charging cable
40 x Lanyard
1x 40 port charging case
•150 meters in an open area, the transmitters can reach 100 meters with each other
NOTE: The Vice transmitter can only work with the main transmitter
Share
View full details