Retekess
SKU:3TX+90RXwith3pcs32portcase
Regular price
Sale price
$4,223.00
Unit price
per
Sale
Sold out
In schools with language barriers, interpretation equipment can greatly facilitate communication between parents, students, and staff during parent-teacher conferences, and classroom and school events.
Wireless ear hook Receivers
TT116 wireless ear hook receiver eliminates the need to plug in additional headset cables, providing users with convenience and freedom of movement. Wireless design reduces the risk of cable tangles and allows students to focus on the class or presentation without any distractions. The volume up and down buttons on the receiver allow students or parents the freedom to adjust the volume and hear clearly, regardless of their hearing ability or the noise level around them.
9999 channel IDs
Translation devices for schools offer 9999 channels to choose from. Allowing you to set up multiple teams in the same area. This ensures clear and reliable communication between every translation team, even when there are many languages to be translated.
Flexibility to add receivers
The TT106 transmitter supports connecting any number of receivers and working together, allowing you to add or subtract receivers as group size changes. This means that whether it's a small group or a large crowd, the TT106 interpretation devices can accommodate all participants.
One-touch mute function
The transmitter with a convenient one-button mute function, which allows you to interrupt audio transmission by just clicking the right button. This feature allows teachers or interpreters to quickly mute the microphone when needed, avoiding the transmission of unwanted sound to the receiver and increasing flexibility and control over the communication process.
Easy to use
Translation equipment supports auto-pairing: the transmitter and receiver can automatically synchronize channels, simplifying the setup process. No need to manually set them up one by one, thus saving time and effort.
One-touch shutdown of all receivers: To simplify the shutdown process, our Interpretation system supports one-touch shutdown of all paired receivers. This feature simplifies the power-off procedure saves time, and ensures the effective shutdown of devices at the end of school event.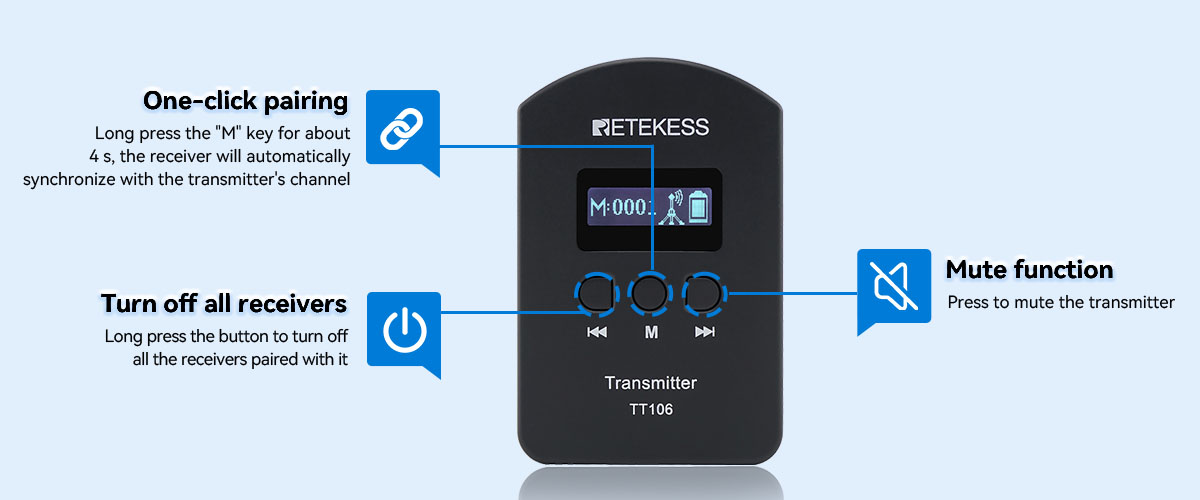 Operating time of Interpretation systems for schools
The transmitter can be fully charged in less than 3 hours and can be used continuously for up to 25 hours. The receiver can be fully charged in 2 hours and provides up to 23 hours of operation. The long battery life ensures that the device can be used throughout the day without frequent charging.
Communication range
Interpretation equipment for schools has an operating range of up to 150 meters / 492 feet in open areas. This extended range ensures that participants can spread out and move freely within a designated area while receiving clear, uninterrupted audio transmission. It is especially useful in larger classrooms, auditoriums, or outdoor school events.
2.4GHz global public frequency
The TT106 Interpretation equipment for schools operates on the 2.4GHz frequency band. This band is widely used and license-free worldwide, ensuring compatibility and interference-free communications in a variety of international environments.
Portable charging case
The Translation equipment comes with a portable 64-port charging case, that can be used as both a batch charging unit and a carry case. It comes with a portable handle that holds the transmitter, receiver, lanyard, and microphone, and can be easily carried to different locations around campus, providing a convenient and organized solution for transport and storage.
How does Translation Devices for Schools work?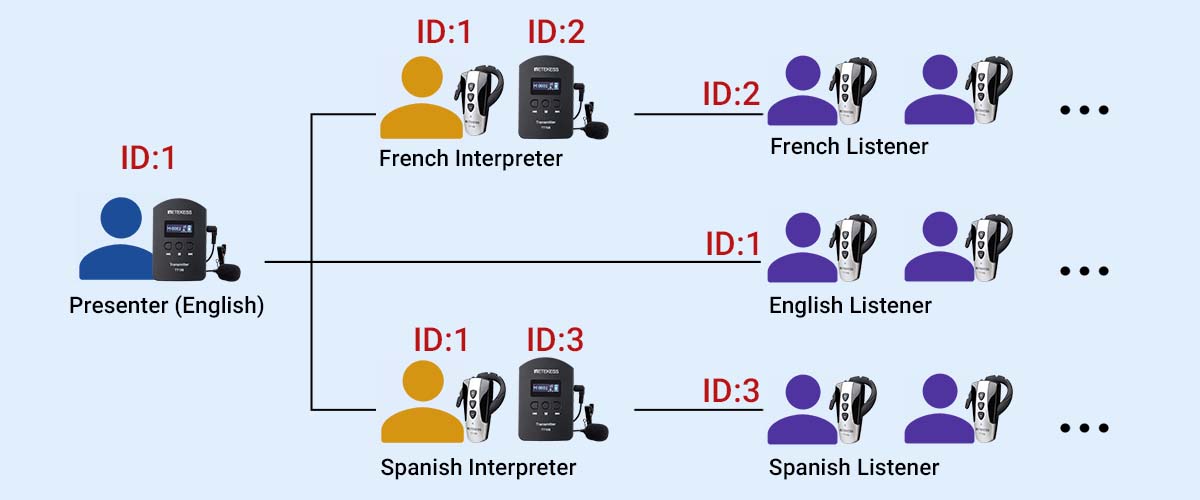 Share
View full details