Antlia
SKU:ANT-3.0HA-31PRO
Regular price
Sale price
$371.00
Unit price
per
Sale
Sold out
Antlia PRO H-Alpha (Ha) 3.0nm Ultra-Narrowband Filter - 31mm Unmounted (glass only)
Just arrived! Now these Antlia filters got even better! 3nm bandwidth instead of 3.5nm! 
 The Antlia H-Alpha (Ha) 3.0nm filter is suitable for imaging H-Alpha emissions from nebulae, planetary nebulae and supernova remnants.
The 3.0nm bandwidth delivers a high transmission at a center wavelength of 656.3nm. The extreme narrowness in bandwidth enables astro-imaging from heavily light polluted locations and delivers improved contrast at darker sites. The filter effectively suppresses interference from other wavelengths, especially artificial mercury and sodium lamps.
Antlia narrowband filters are designed to bring out the faintest features in nebulosity by reducing the unwanted background frequencies.
The narrower the filter, the better. Our H A lpha filter is designed to deliver 90 % transmission at the 656.3nm line. The out of band blocking specification is rated OD3 (0.1%) which delivers an excellent signal to noise ratio and effective cut off rate to minimize interference from other wavelengths.
A sharp cut off rate is a very important performance index since it is designed to sharply attenuate off-band wavelengths. The result is that the Antlia Ha filter delivers excellent contrast with extremely dark backgrounds whilst delivering a high transmission of the Ha signal. The sharp cut-off also minimizes the effect of halos around bright stars.
In the production process, we use very strict quality control standards. Each filter is individually tested and scanned to ensure that the product meets our high-performance parameters. Our exacting attention to tolerances requires each substrate to have a uniform thickness that achieves no more + -0.05mm deviation from specification.
Application and Performance:
Ultra-narrow 3.0 nm bandwidths, designed for astronomy imaging in both light polluted areas and at dark sites;
Suitable for imaging of H-Alpha emission in nebulae, planetary nebulae and supernova remnants;
With the Ha, SII, OIII set of filters you are able to process your images to achieve the impressive Hubble color palette;
With the Ha and OIII filters these can be used to achieve great narrowband results using the Bi-Color process;
High transmission of typically 90% and sharp cut-off delivers an excellent boost in contrast for Ha emitting objects;
All Antlia Narrowband filters are edge blackened to minimize interference from stray light;
This filter is not suited to deep sky objects that do not contain Ha emissions. It can be used to image Ha regions in galaxies and such images can be combined into LRGB images to better highlight the Ha emitting regions of galaxies.
Technical Data:
Schott optical substrate

1.25", 2" mounted, 31mm,36mm dia (2mm+/-0.05mm)
50mm dia,50*50mm,65*65mm square (3mm+/-0.05mm)
Surface Quality: 60/40 (Refer to MIL-O-13830)
2 sides fine-optically polished to ensure accurate 1/4 wavefront
30 arcsec parallelism

Center-Wavelength of Antlia H-Alpha 3.0nm filter: 656.3nm
H-Alpha 656.3nm T>90%, 90 % transmission at H-Alpha line at 656.3nm
min OD5(0.001%)@ 300-1000nm
Both sides with multi-layer anti-reflection coating
Single / Non-glued substrate
Filter Cell (specifications for cell mounted filters only):
1.25" (M26*0.6),2" (M48*0.75)
Ultra-thin filter cell to minimize vignetting by maximize possible clear aperture
Black Anodized Finish
Non-Fading Laser Engraving
Available Sizes:
Mounted: 1.25" & 2" (2mm thickness)
Unmounted:Dia 31mm,Dia 36mm (2mm thickness)
Unmounted:Dia 50mm (3mm thickness)
Unmounted:50*50mm,65*65 square (3mm thickness)
Not Recommended:
Solar Observing and imaging
Visual observation

IMPORTANT!

 

DO NOT LOOK AT THE SUN WITH ANTLIA FILTERS.
Serious eye damage will result if you fail to observe the warning.
USER CONTRIBUTION:
MELOTTE 15 – "THE HEART OF THE HEART NEBULA" (IMAGE FURTHER BELOW...)
Subject:                              Melotte 15 – "The Heart of the Heart Nebula"
Imaging OTA:                     Sharpstar SCA260 – 1300mm, f/5.0
Imaging Camera:               ZWO ASI2600MM-PRO
Filters:                                 Antlia 2" Narrowband: Ha (3nm); Sii (3.5nm); Oiii (3.5nm)
Filter Wheel:                      ZWO 7 x 2"
Guide System:                    ZWO OAG-L with ZWO ASI174MM camera
Mount:                                Skywatcher EQ6-R
Capture Details:                 Ha: 30 x 300s; Sii: 26 x 300s; Oiii: 26 x 300s
Integration time: 6h40'
Bortle 4 over 4 nights
Courtesy of Alistair Scobie
(Please note, below is a 900px wide version, but if you click on it, you will see a 1600px wide version. The original was even larger, but we had to reduce it to 1600pixels width as that's the max our shopping cart system allows...)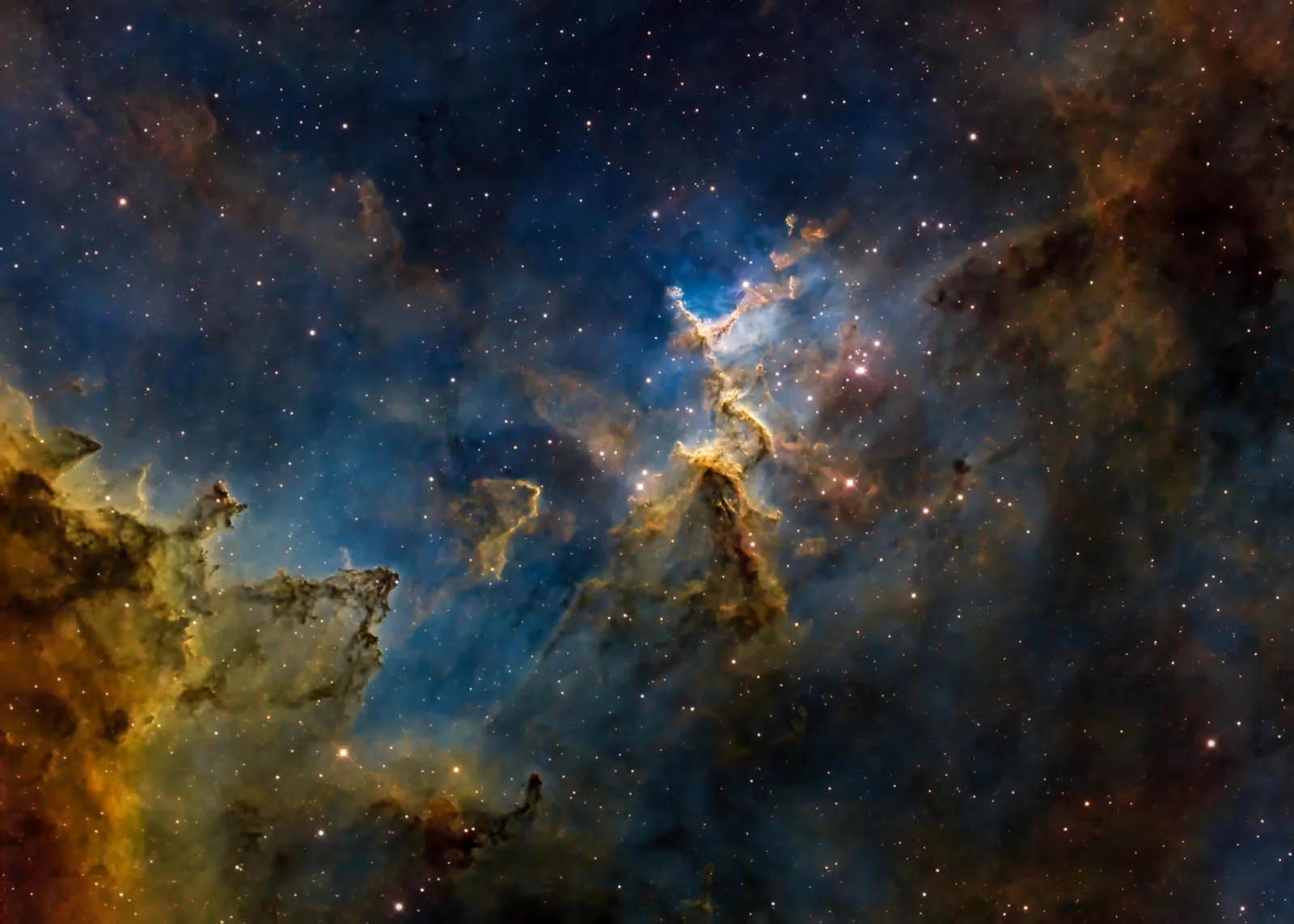 Share
View full details