Pegasus Astro
SKU:PEG-DSLRBUD2
Regular price
Sale price
$107.00
Unit price
per
Sale
Sold out
DSLR Buddy v2
This small, lightweight device is designed for photographers with the plan to provide a constant power supply to a DSLR or mirrorless camera.
It also can power up a dew heater by varying the duty cycle of the DC voltage (PWM control). It is definitely a perfect buddy for your DSLR in the mountains and in any astro-photographic field.
With this dummy battery and the built-in Dew Heater Output, nothing can stop your camera from working for the whole night long! A unique product for time-lapses and astrophotography (deep sky, star trails, etc).
Automatic
Voltage Selection
Device automatically and uninterruptibly selects the highest voltage input (DC IN vs USB-C socket).
Simple rotary knob
control
You can manually dim the Dew Heater output by using the knob at the side of the DSLR Buddy. A red light (PWM duty cycle indicator) change its brightness when you adjust the dew knob.
Reverse Polarity
Protection
The device is designed to be protected from reverse voltage polarity. No worries if you accidentally reverse connect your power source.
Constant Power Supply to DSLR Camera
Plug the dummy battery to your DSLR and forget to replace the battery every time it drains of power.
Connect a 5- 15V power supply to the DSLR buddy and power on your camera with stable and constant voltage for the whole night long!
Either use the DC socket or the USB-C socket. Use your Power Bank to step up the voltage (to 8Volts) for your camera.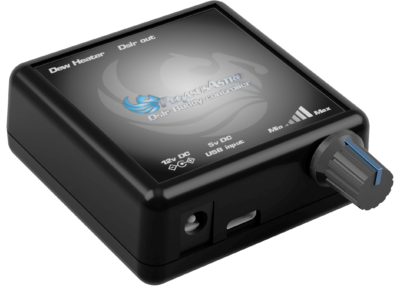 1 x DSLR Buddy Controller
Supply Voltage
5-15V DC (Reverse Polarity Protected). 12V DC is preferred
Power Input Connector
2.1mm Centre Positive Socket
or
USB Type C
Automatically selects voltage input (Switches to DC input as a preferable input)
Camera Power Output
2.1mm jack (pin is positive), DC 8V / up to 3Amps
Dew Heater or Flat Output
1 x RCA (2.5A max current)
Dimensions
66 mm x 66 mm x 28 mm
Share
View full details