Retekess
SKU:F9407D
Regular price
Sale price
$174.00
Unit price
per
Sale
Sold out
Retekess T116A Wireless Restaurant Paging System 999 Channels

Retekess T116A Restaurant Paging System with 10 pagers and 999 channels
Design:
Integrated modeling design of transmitting host and receiver.

Using AM modulation technology, the signal is stronger and more stable.

The matching method is simple and easy to operate.

Support for one-button reset.

Detachable antenna

Support 12V1A adapter
Functions:
Work with T116 wireless calling system 
If you have a T116 restaurant paging system, and you want to add a small quantity pager, the T116A is your best choice, it comes with 10 pagers. 
You can charge them with one base, and you can pair it with the T116 paging system as well. 
Touch screen keyboard
It looks very beautiful with the touch keypad, and very good quality and the top grade. Increase your customer's experience. 
Up to five reminder modes, support one-click switching 
Vibration with light and buzzer, vibration and buzzer, vibration and light, vibration, buzzer, and light. When you are in the changing reminder modes, 
one click to change the reminder mode. You can choose the one that fits your business.
Support one-click shutdown
When you call a day, put all the pagers in the slots, click 999, and press call to turn off all the pagers. It will save you a lot of time.
Turn on pagers
Put all the pagers in the slots and plug in the power, the pagers will turn on automatically.
Change the contents of the stickers by yourself
If you want to put your type of sticker, you can take the part off and put your own in it. 
Receiver notice time
When you call the receiver, the pager will notice the 30s one time. You can turn off the pager by pressing the side button or putting it back in the charging slot.
Signal Range
This pager system can reach over 300 meters in an open area.
Low power notice
When the pager is out of power, the light will flash every second. 
Notice: When this wireless calling system is in charge, the light is red. When fully charged, the light is green.
Advantages:
It will save a lot of space for you. And it is quite good for your business. With this paging system, your customers will have a better experience. 
It will increase your business. It is widely used for fast-food restaurants, dining car restaurants, coffee shops, bookstores, and many other areas.
Application: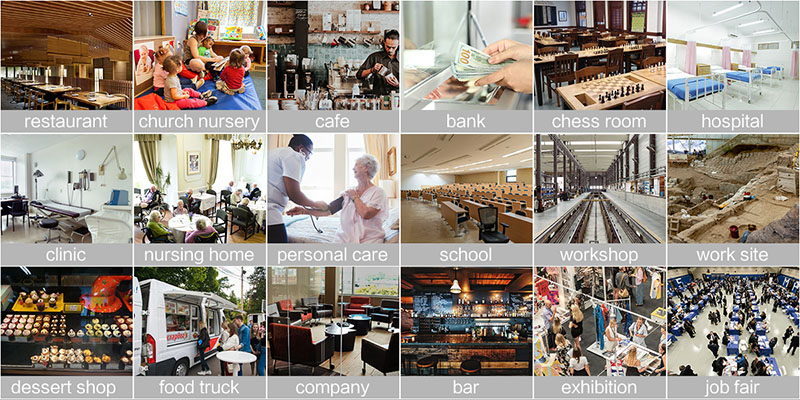 Share
View full details