ZWO
SKU:ZWO-Seestar-S50
Regular price
Sale price
$689.00
Unit price
per
Sale
Sold out
This is a pre-order item due December 2023
Seestar S50: The All-in-One Smart Telescope for Astronomy and Landscape Lovers

Are you looking for a telescope that can do it all? A telescope that can capture stunning images of the night sky, as well as the beauty of nature? A telescope that is easy to set up and use, without compromising on quality and performance?
If you answered yes to any of these questions, then you need the Seestar S50, the all-in-one smart telescope from ZWO.
The Seestar S50 is a compact and portable telescope that features a 50mm aperture and a 250mm focal length, making it ideal for viewing the Moon, planets, and deep-sky objects. It is equipped with a built-in ASI224MC colour camera, which allows you to capture high-resolution images and videos of your celestial targets. You can also use the camera to view the live feed from the telescope on your smartphone or tablet via Bluetooth or Wi-Fi.
The Seestar S50 also incorporates an ASIAIR intelligent controller, which automates the workflow of your observation. You can use the ASIAIR app to select your target, adjust the settings, and control the telescope. The app also supports plate solving, which helps you find and centre your target accurately. The Seestar S50 has an altazimuth mount that can track your target smoothly and quietly. It also has a filter wheel that lets you switch between different filters to enhance your images.
The Seestar S50 is designed to be user-friendly and versatile. It weighs only 3kg, making it easy to carry and store. It has a 64GB internal memory that can store thousands of images and videos. It has a dew heater that prevents condensation on the lens. It has a tripod that provides stability and flexibility.
The Seestar S50 is more than just a telescope. It is a smart device that can enrich your astronomy and landscape photography experience. Whether you are a beginner or an expert, you will love the Seestar S50.
Effortless Observation and Photography

With built-in Wi-Fi and Bluetooth connectivity, paired with the accompanying mobile app, the Seestar S50 allows you to effortlessly observe and photograph celestial objects including the Moon, galaxies, and nebulas.
Professional-Grade Optics
The Seestar S50 features a professional-grade apochromatic triplet lens design, delivering beautiful and crisp images while effectively controlling chromatic aberration. The high-quality lens coating reduces light loss, ensuring optimal performance.
Intelligent and Convenient Features
Benefit from built-in sensors for tripod leveling, integrated star maps, and GPS sensor compatibility for automatic self-calibration and alignment. Simply choose an object from the star map, and the Seestar S50 will automatically align and track the object, keeping it centered in your field of view.
Extended Battery Life
The Seestar S50 boasts low power consumption, allowing for up to six hours of continuous use per charge. You can even recharge it with a power bank while in operation, ensuring uninterrupted stargazing sessions.
Live Stacking Capability
Take your Electronically Enhanced Astronomy (EEA) to the next level with the Seestar S50's live stacking feature, providing enhanced image quality for your astrophotography endeavors.
Key Specifications:
Focal Ratio: f/4.9

Telescope Aperture: 50mm (1.97")

Telescope Mount Type: Alt-Azimuth

Number of Refractor Elements: 3 (Triplet)

Focal Length: 250mm

Resolution: 1920 x 1080

Telescope OTA Weight: 6.6 lb.

Connectivity: Wi-Fi and Bluetooth

Operating Temperature: 0°C ~ 40°C

Smart Telescope Sensor: Sony IMX462
Unlock the mysteries of the universe with the ZWO Seestar S50.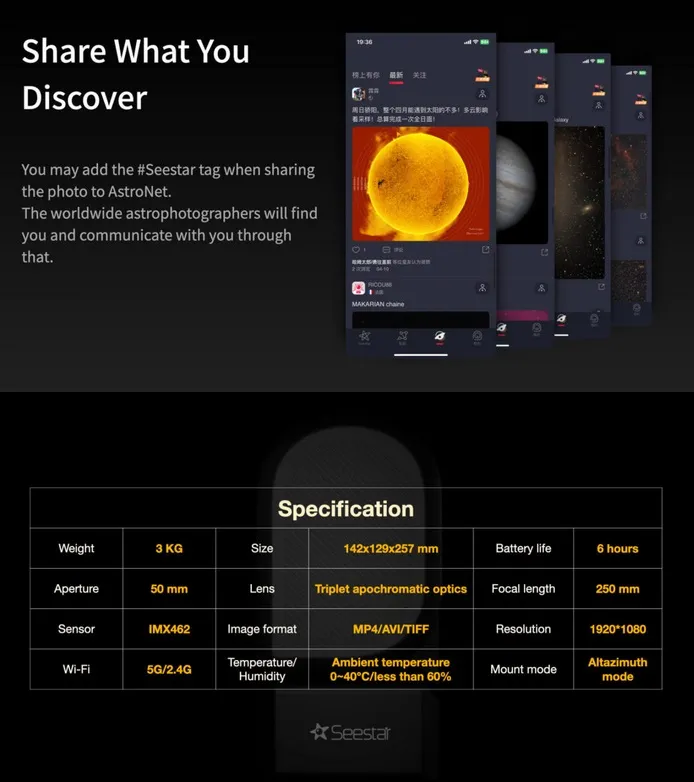 Share
View full details