Askar
SKU:ASKAR-80PHQ
Regular price
$2,004.00
Sale price
$1,764.00
Unit price
per
Sale
Sold out
ASKAR 80PHQ 80mm f/7.5 ED APO Quadruplet Apochromatic Astrograph Refractor Telescope
Askar introduces the brand-new 80PHQ refractive astrograph. And it's the second long-focal-ratio astrograph from the PHQ- family.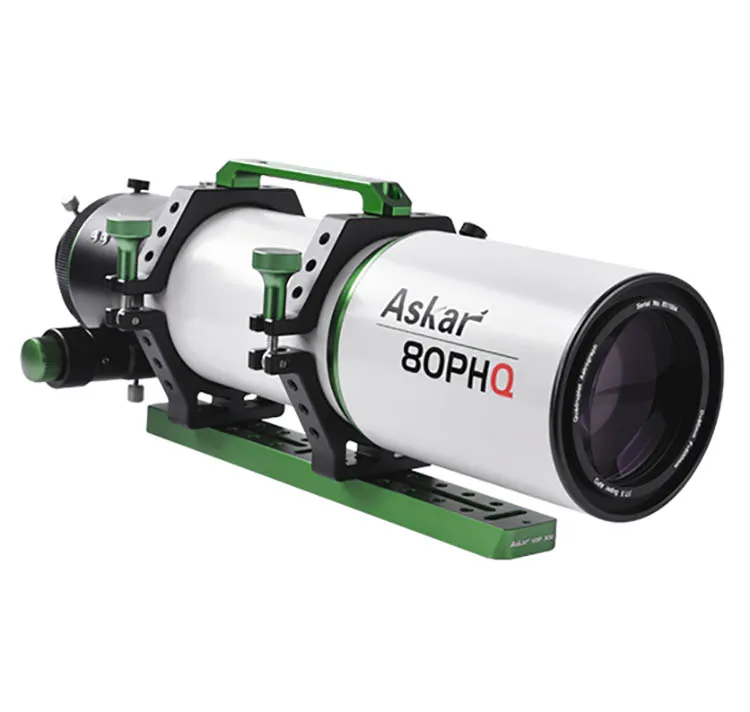 The overall finish of 80PHQ is evenly painted. The ivory and flawless coating of the main tube feels comfortably pimply, which can not only increase your grip, preventing the telescope from slipping off from your sweaty hands, but also improve its texture, avoiding the tedious monotony.
A pair of clamshell-style CNC-manufactured black tube rings tightly hold the OTA. So you can just turn two locking screws to loosen or tighten the tube rings simplifying the setup by avoiding the frequent use of small tools like Allen wrenches or socket head screws.
The bright green dust cap, handle, locking screws, focusing knob and decorative rings add more energy and vitality to the otherwise deep and profound astrograph. White and green is the classic combination for PHQ series.
There is a 3" rack-and-pinion rigorous focuser on the rear end of the telescope. It's a smooth focusing unit with dual-speed adjustment. 80PHQ's rotator is marked with precise graduation which makes your previous subjective adjustment more accurate.
The 80PHQ inherits the optical design of the PHQ- family, adopting a 3+1 quadruplet lens structure which contains two pieces of ED glass that can effectively reduce chromatic aberration and enhance clarity and sharpness. It's worth mentioning that all astrographs from PHQ- family come with an integrated lens combination rather than simply placing three major lenses and a corrector together in a line. In another word, the whole optical system cannot solely perform without any piece of these lenses. This structure design leads to a more rational lens arrangement, better vignette control and superior image quality. The focal ratio of 80PHQ is f/7.5. It's a "long" focal-ratio astrograph compared with other counterparts from Askar. It's a little bit longer even compared with 107PHQ which is f/7 in focal ratio.
Some users may be frustrated that it's hard to make a trade-off between 107PHQ and 80PHQ, since there seems to be so much in common. And especially for those who are new to astrophotography, the complicated designations and confusing numbers are really a major obstacle when they hopefully try to pick out just the proper one from oceans of dazzling products.
 
Indeed, 170PHQ and 80PHQ are similar in many aspects partially because they are both the newly-developed refractive astrographs from the same family. However even if they all have excellent mechanical design and sophisticated optical system, there are noticeable differences between these two.
At the first glance, Askar 80PHQ is much more compact. 107PHQ is 603mm in length and weighs 5.7kg whereas 80PHQ is 448mm in length and weighs 3.9kg. So if your equatorial mount is not capable of holding heavy telescopes, or if you are quite tired of carrying a bulky long focal-ratio telescope around, then 80PHQ may be a great option.

Like the 107PHQ, you don't need to calculate the back focus distance within the connection limit. Besides, users don't need to add an extra 1× flattener due to its powerful flatfield optical design, which simplifies the operation.
Above image: Courtesy of Andrea Maggi, NGC2264
ASKAR 80PHQ + ASI 6200,Filter Optolong 3nm
ASKAR 80PHQ ED APO quadruplet telescope features:
Aperture size:80mm
Focal length:600mm
Focal ratio:f/7.5
Objective lens:Quadruplet air-spaced APO (including two ED glass)
Image circle:44mm
Maximum accessory connection (with the focuser fully retreated):
1. Imaging mode:
    115mm(from the base of M48×0.75 male thread)         
    135mm(from the base of M54×0.75 male thread)
    155mm(from the base of M68×1male thread)
    168.5mm(from the base of M76×1 male thread)
2. Observing mode:
    148mm(from the end of 2" eyepiece holder)
Total length:450mm(including 1.25" eyepiece holder as dew shield contracted)
540mm(including 1.25" eyepiece holder as dew shield fully stretched)
480mm(including the 4-piece adapter as dew shield contracted)
570mm(including the 4-piece adapter as dew shield fully stretched)
Net weight:3.9kg
Gross weight:4.7kg
Rear-end thread type:M76×1-M68×1   
M68×1-M54×0.75   
M54×0.75-M54×0.75
M54×0.75-M48×0.75(M48×0.75 filter thread inside)
Standard package items:an 80PHQ OTA,a pair of tube rings, a handle, an Askar 300mm Vixen dovetail plate, a set of 4-piece photographic adapters, a manual
Share
View full details