Retekess
SKU:
Regular price
Sale price
$361.00
Unit price
per
Sale
Sold out
Retekess TT101 Wireless Tour Guide System.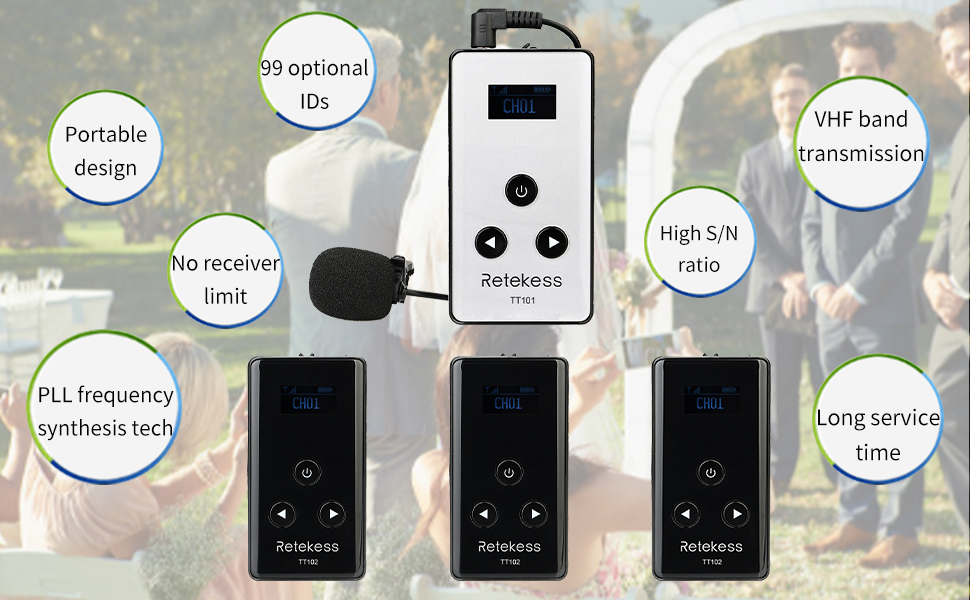 Retekess Wireless Tour Guide System is a portable long-range wireless system used to transmit a message from a presenter to audiences. The presenter speaks into microphone transmitter and the audience use lightweight receivers to hear the message
Long transmission distance Working distance can reach about 80m(265ft); church translation system can be used for hearing impaired people in an auditorium environment; Allows tops 99 tour groups in the same area.

Rechargeable battery Built-in 1200mAh lithium upgraded battery both for transmitter and receivers, more than 40 hours working for receivers and 20 hours for transmitter after full charge

99 optional channels Find a frequency between 195-230MHz, keep pressing the left button both transmitter and receiver about 3S, then release when receiver shows CH+, and transmitter(not included the TT101 transmitter) shows CH00, adjust them in the same frequency, the channel number is flashing means paired automatically. manual pairing also available user-controlled volume After the receiver is paired with the transmitter, you can adjust the volume by clicking the left and right buttons about 3S~ 5S, 10 levels adjustable volume.

Mute adjustment In pairing state, press the power button to mute, the screen shows the mute icon, click the power button again to activate the mute function, so that the receiver cannot receive the speech
One key turns off all receivers presses the power key for 6s on the transmitter. All the receivers will be turned off in the same channel.

1-meter cable
1-meter microphone/earphone cable, easy to put transmitter/receiver into your trouser pocket;
Ear-hook design, more comfortable, Small and lightweight, clearest voice transmission
Volume 10 level adjustable both for transmitter and receiver
1200mAh lithium upgraded battery
Built-in 1200mAh lithium upgraded battery for transmitter and receivers;
More than 20 hours working for transmitter and 40 hours for the receiver;
Both round charge slot and flat USB port are available, easy to charge by a charging case or your own USB charging cable (Standard flat, round USB cable)
Note: both the charging case and USB cable are not included in our package.
Comfortable Design
Both Transmitter and receiver weighs 163g, small and light for carrying or carriage;
Lanyard hole design can be hung on the neck;
Indicator light on transmitter and receiver that provide convenient visual indications of charging status

Come with string
Lanyard design, you can hang it on your neck;
Both Transmitter and receiver weighs 163g, small and light for carrying or carriage;
Easy to use
Portable size easy to carry, Ideal for hands-free exploring;
1 meter line for microphone and ear-hook earphone, enough to put the transmitter or receivers to your trouser pocket.
Compact size
Lanyard hole design can be hung on the neck;
Indicator light on transmitter and receiver that provide convenient visual indications of charging status
Share
View full details