Retekess
SKU:
Regular price
Sale price
$384.00
Unit price
per
Sale
Sold out
Retekess TT103 Wireless Tour Guide System Translation System.

Retekess TT103/TT104 Wireless Tour Guide System Translation Equipment
1, Wireless wireless translation equipment system is easy to operate with lightweight small size;
2,Suitable for a travel agency; church translation; university translation, conference meeting interpretation or museums tour
Receivers Addition
You can add any number receivers for just one transmitter in the same range; expandable to handle small or large groups in a wide range of applications
Volume setting
Adjustable volume; Also there is volume mute switch; Works well in the church which made easy to translate to others quietly
740-790MHz Switching Bandwidth
More stable signal; less signal interference; Speech is highly intelligible for translation or interpretation
Rechargeable Battery
Built-in rechargeable battery; no need to replace the battery; easy to charge
3.5mm jack
So you can replace Earphones more freely; Extremely lightweight ear-clip for a comfortable fit; Changeable foam earpads for optimum hygiene
1 Transmitter AND 10 Receivers, pls check more details on the tour guide equipment translation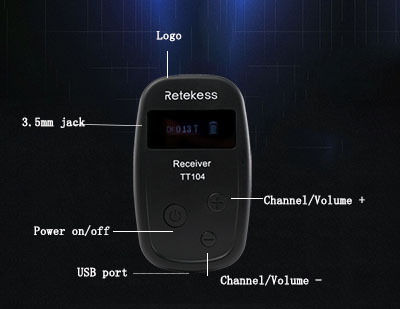 Long Battery Life
The tour guide system portable transmitter and receivers are all built-in rechargeable batteries for transmitter and receivers.1400mAh lithium battery. And it can last about 14 working hours. So there is no need to worry about battery life during usage.
Sound Clarity
It adopts advanced PLL technology. So it can effectively maintain the signal stability. Superior audio clarity, rejection of ambient noise, and naturalness of tone.
Support 3.5mm Earphones
The receiver uses single-sided earphones for comfortable wearing and easy to use. You can plug in any 3.5mm jack earphone type to the receiver. So it can be convenient to replace earphones. Over the ear earphones are more clean and hygienic

Long Transmission Distance
2.56-inch antenna enhances signal transmission; About 460ft transmission distances from the transmitter to receivers with the antenna design. So it can work well in church translation, tour guides, museums, meetings and so on.
One Way Audio Input
Audio transmission can be achieved by connecting the transmitter and various audio devices with headphone jacks by using a 3.5mm, AUX cable (not included)
Top 200 Channels Groups
The interpretation system has 200 IDs which allow 200 groups working at the same time in the range; These systems can be sized to meet your current tour guide requirements and then be expanded as your tour program growsApplied Situations
Tour Guide
Easy to operate. For up to 200 groups of visitors simultaneously, it can be integrated into interpreting systems without interference.
Meetings
Optimum speech intelligibility. Worked well at meeting rooms, and the attendees needing translation could hear perfectly.
Church
Assistive listening devices. These systems can be sized to meet your current tour guide requirements and then be expanded as your tour program grows.
Museums
Possible for maximum accessibility. Small size, easy to carry. So the interpretation system can be a good choice for museums.
Share
View full details