Retekess
SKU:N9409A
Regular price
Sale price
$32,325.00
Unit price
per
Sale
Sold out
Retekess Wireless Conference System Simultaneous Translation System with Aluminum Charging Case
The controller support 8 channel audio output with metal material; to monitor or record by connecting cassette; adopt digital DQPSK modulation technology with high confidentiality;suitable for large international conference interpretation
Arc structure of IR radiator panel; so it can get wider coverage; with 135 degree launch angle; super emission ability; and each panel maximum distance can reach 40 meters; long range
Fully digital audio technology; each interpreter unit support 15 languages translation; also it adopts interior DSP audio processing technology; no low frequency sound interference; more clear sound quality
Signal mute automatically; Infrared receiver will enter that state when the signal is too weak; so it can offer high quality signal for the receivers; noise free
Charger case indicator;red light indicates the poor connection between battery and charging stand; orange color means the receiver is in charging state; green color means the receiver is fully charged; very easy to use

Powerful and flexible; Retekess digital wireless conference System allows big conference or meetings to be managed with complete control and reliability;allows for simultaneous interpretation of up to 15 languages for each interpreter unit; support interpretation and complete conference management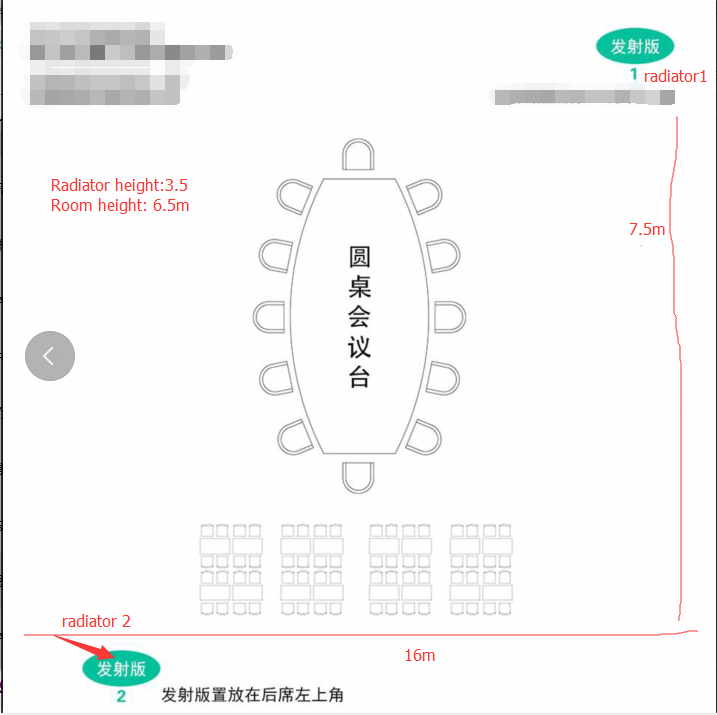 This is a 150m2 room, if this room has round table and side by side seat, you need two radiators like that.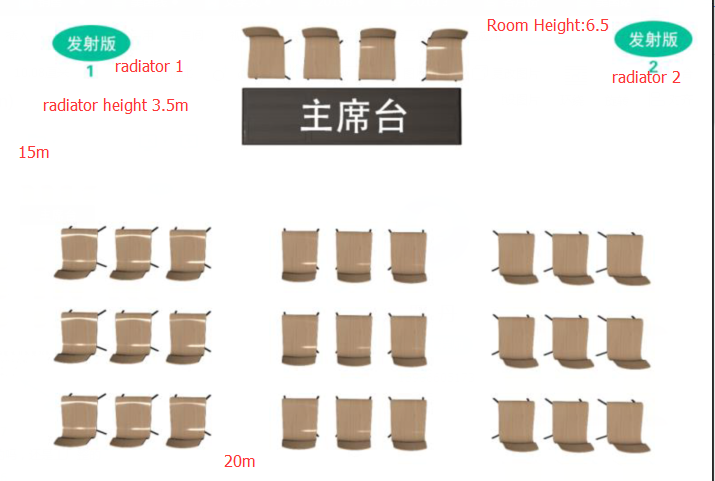 For this 300m2 room, if they all side by side seat like this, you need two radiators,too. The quanity of radiator depend on your room layout.
Metal material of controller shell
So it can more durable use; the line and shell has strengthened connection with the ground; and it has strong ability to resist the 8000V anti static; more safety use

Cable delay compensation functions
So it can reduce the transmission signal delay effectively; so it can offer better feelings for interpreter and receiver at conference translation

Standby function
IR radiator will enter standby state when it can not receive signal input or output; only 3W standby power; low power consumption

7 inch touch screen of interpreter unit
Capacitance screen; more smooth operation; elegant appearance with UI interface; and you can set channel input; channel output; volume on the screen; easy to use

Rotary microphone bar
So the interpreter can adjust the angle more freely; with double color indicator light; the green indicator will light up when plug the power; red indicator stands for speaking state

LCD display for Infrared Receiver 
You can see more product details display such as channel number; battery level and signal status indication

Easy to charge 
Fast charge time can be 3 hours; and the longest charge time is about 8 hours; and it all depends on the current and voltage at actual practise use 
Note: We have 4 channels, 8 channels and 16 channels system, if you need, feel free to contact us . In addition, we have another system work with Bosch System. 
Share
View full details