ZWO
SKU:AM5-HEAD-ONLY
Regular price
Sale price
$2,909.00
Unit price
per
Sale
Sold out
The 2022 ZWO AM5 Equatorial Mount: A Game-Changer for Astrophotography and Astronomy
Discover the new ZWO AM5 equatorial mount, a 2022 breakthrough in astronomical equipment for both professional astrophotographers and astronomy enthusiasts is available here at Dark Clear Skies. This state-of-the-art mount revolutionizes the field with its dual-mode functionality and cutting-edge features.
Key Benefits of the ZWO AM5 Mount:
Dual-Mode Operation: Easily switch between Equatorial (EQ) mode for precise astrophotography and Azimuthal (AZ) mode for straightforward visual observations.
Unmatched Precision: Experience unparalleled tracking accuracy between 0.5 to 0.8 arc seconds, thanks to the high-resolution NEMA stepper motors paired with a wave gearbox.
Versatile Control Options: Manage the mount effortlessly via a hand controller, mobile app, or ASCOM-compatible software, ensuring seamless integration with ASIAIR™ series controllers.
Compact and Powerful: Despite its lightweight design, the ZWO AM5 supports a significant load, with a maximum capacity of 20 kilograms when using counterweights.
Advanced Safety Features: A dedicated brake mechanism protects your optical tube from damage during power outages by preventing accidental drops.
No need for counterweights.
Distinctive Features:
High load capacity in a lightweight form, ideal for both EQ and AZ modes.
Superior tracking precision with top-tier stepper motors and a 300:1 wave gear ratio.
Customized periodic error correction within ±20 arc seconds for each unit.
Multiple control options including a user-friendly hand controller and mobile app.
Built-in brake mechanism for optical tube protection.
Full ASIAIR™ computer compatibility.
Technical Specifications:
Mount Type: Equatorial (EQ)
Modes: EQ/AZ
Max Focal Length: 900 mm
Load Capacity: 13 kg (without counterweights), 20 kg (with counterweights)
Optical Tube Mount: Losmandy/Vixen
Counterweight Axle Thread: M12
Latitude/Azimuth Adjustment: 0 - 90° / ±10°
RA/DEC Drive: NEMA 42 (RA), NEMA 35 (DEC) stepper motors
Motor Resolution: 0.17 arc seconds
Drive Transmission: Wave gear, toothed belt, 300:1 ratio
Periodic Error: <±20 arc seconds
Rotation Speed: Max 6°/s
Travel Speeds: Multiple options from 0.5x to 1440x
Connectors: USB, ST-4, hand controller, power
WiFi: Yes
ASIAIR™ Communication: Wired/Wireless
ASCOM Compatibility: Yes
Power Supply: 12V, 3A
Operating Temperatures: -20°C to 50°C
Mount Head Weight: 5 kg
Included in the ZWO AM5 Set:
ZWO AM5 Mount Assembly
Hand Controller and Cable
Warranty:
Enjoy a 24-month warranty with the ZWO AM5 mount, ensuring quality and customer satisfaction.

SUPPORT: ASCOM / INDI / SkySafari
LX200 PROTOCOL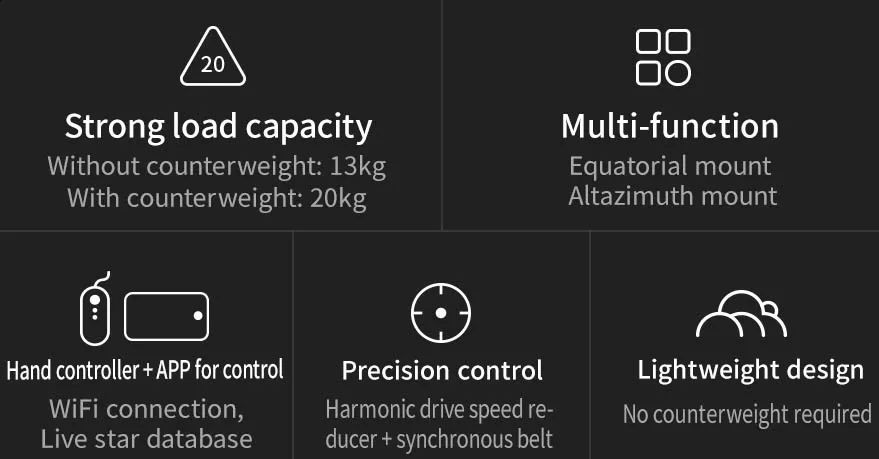 Astronomy-dedicated Harmonic Speed Reducer
ZWO jointly developed with well-known domestic manufacturers to improve the harmonic drive speed reducer according to the actual needs of astro-photography.
It comes with very low periodic errors, smooth gearing and high torque. The guiding accuracy is 0.5-0.8 arc seconds, which makes the AM5 mount extremely suitable for astrophotography.
The internal structure of the body is optimised with the harmonic drive speed reducer and synchronous belt, bringing more accurate control and an amazing reduction ratio of 300:1.
PE Curve Report with Each Mount
ZWO measures each mount and provides it with an exclusive PE curve before it leaves the factory. The x-axis represents the periodic error. The periodic erro is kept within +/- 20 arc seconds.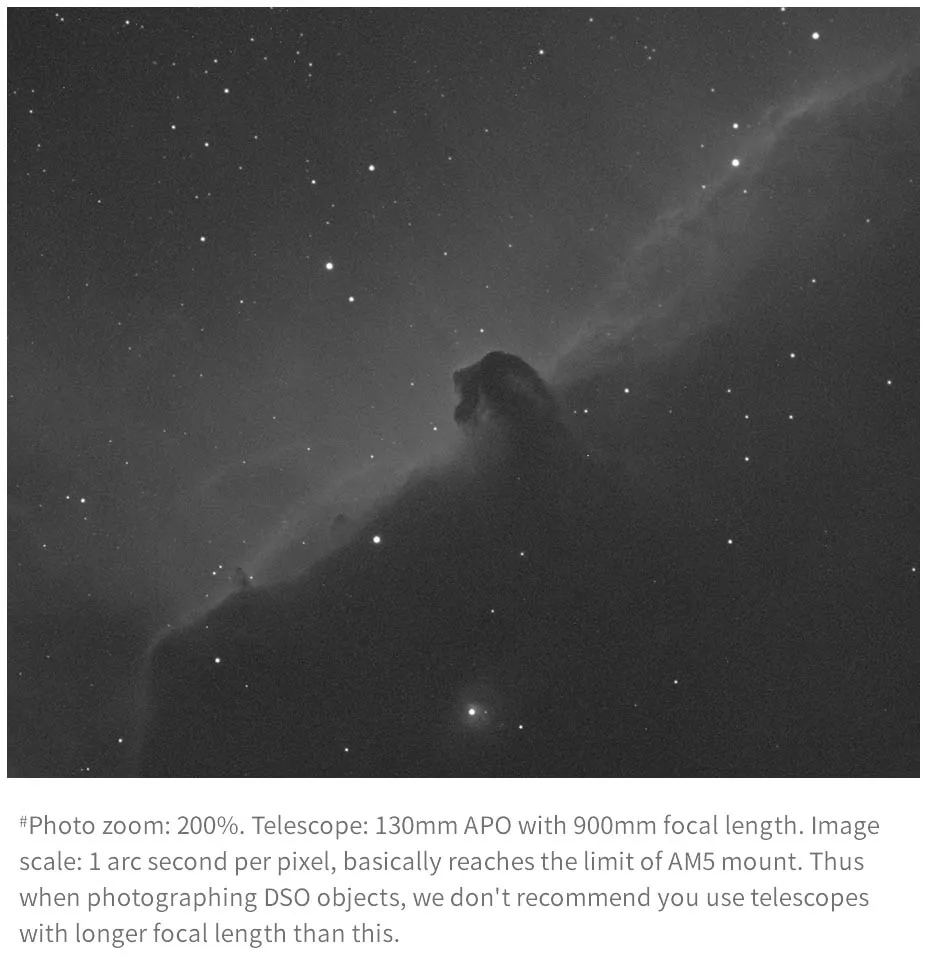 Above photos show images at 200% zoom. A 130mm aperture APO telescope with 900mm focal length was used. The image scale is 1 arc second per pixel, basically reaches the limit of the AM5 mount, therefore when imaging faint DSO objects with long exposure times, we do not recommend to use the mount with telescope with longer focal length than this. Planetary imaging with much longer focal length is possible or shorter exposure of brigther deep sky objects as well.
Lightweight Mount with High Load Capacity
The mount weights 5 kg, which is a very good compromise between stability and portability.
Load capacity without a counterweight is 13kg.
The mount also comes with a counterweight, and when you use it, the load capacity increases to appr. 20kg.
DUAL PURPOSE MOUNT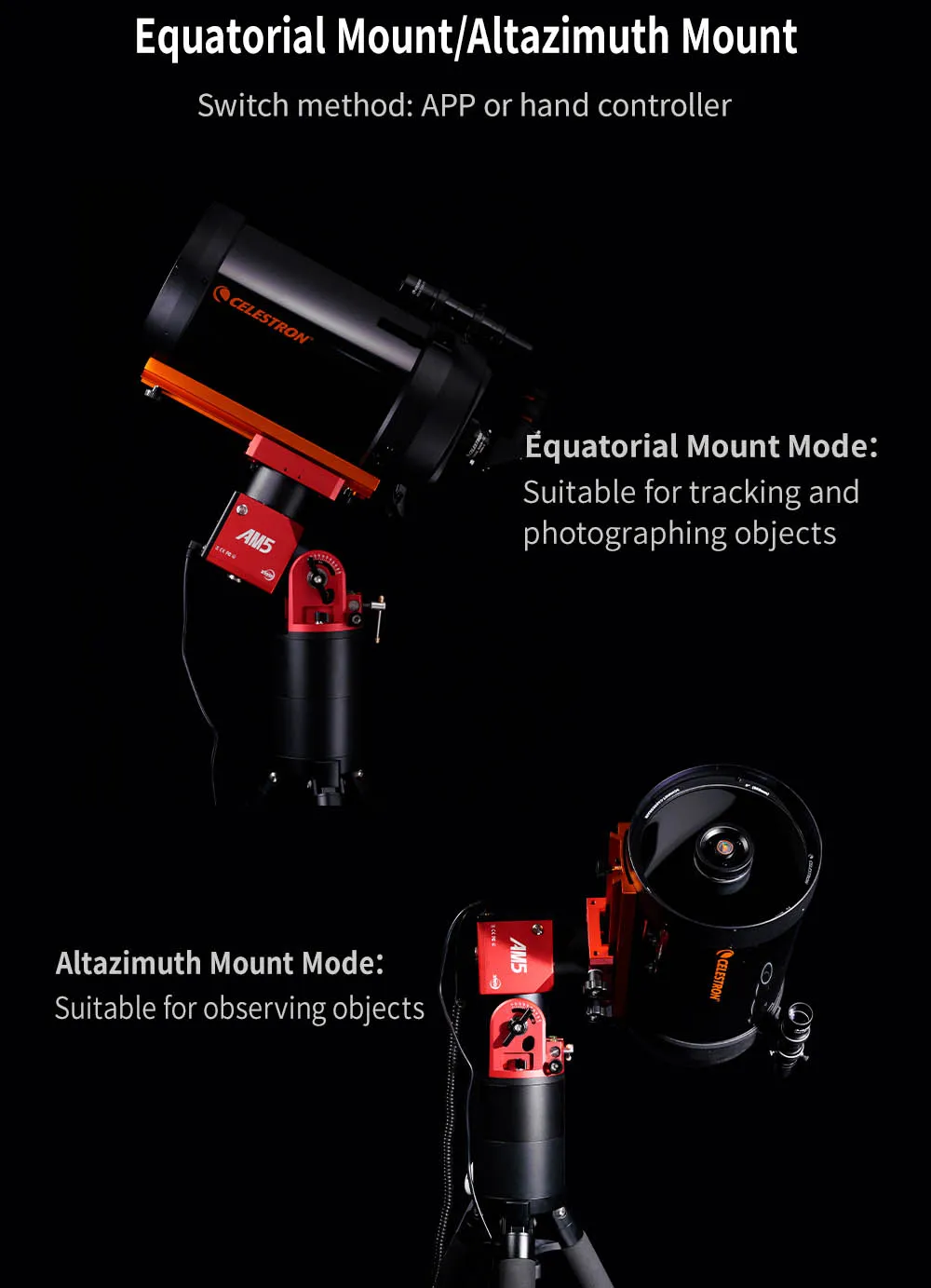 The design of the mount makes it possible to change the pitch angle between 0 and 90 degrees, which also allows to convert the mount from equatorial into an Alt-Azimuth mount for convenient visual observations with your telescope.
WIRELESS CONTROL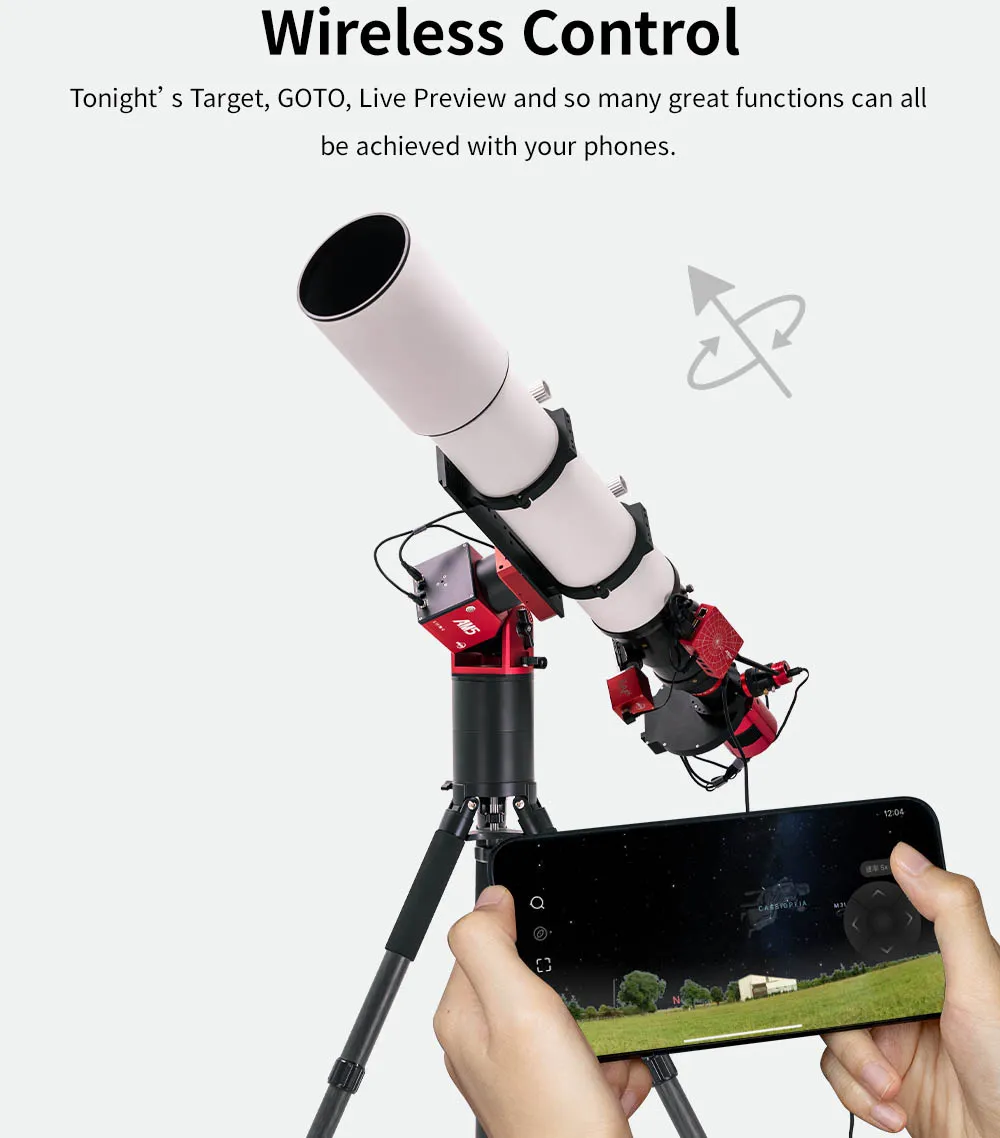 HAND CONTROLLER
POWER FAILURE PROTECTION
CONNECTION WITH ASIAIR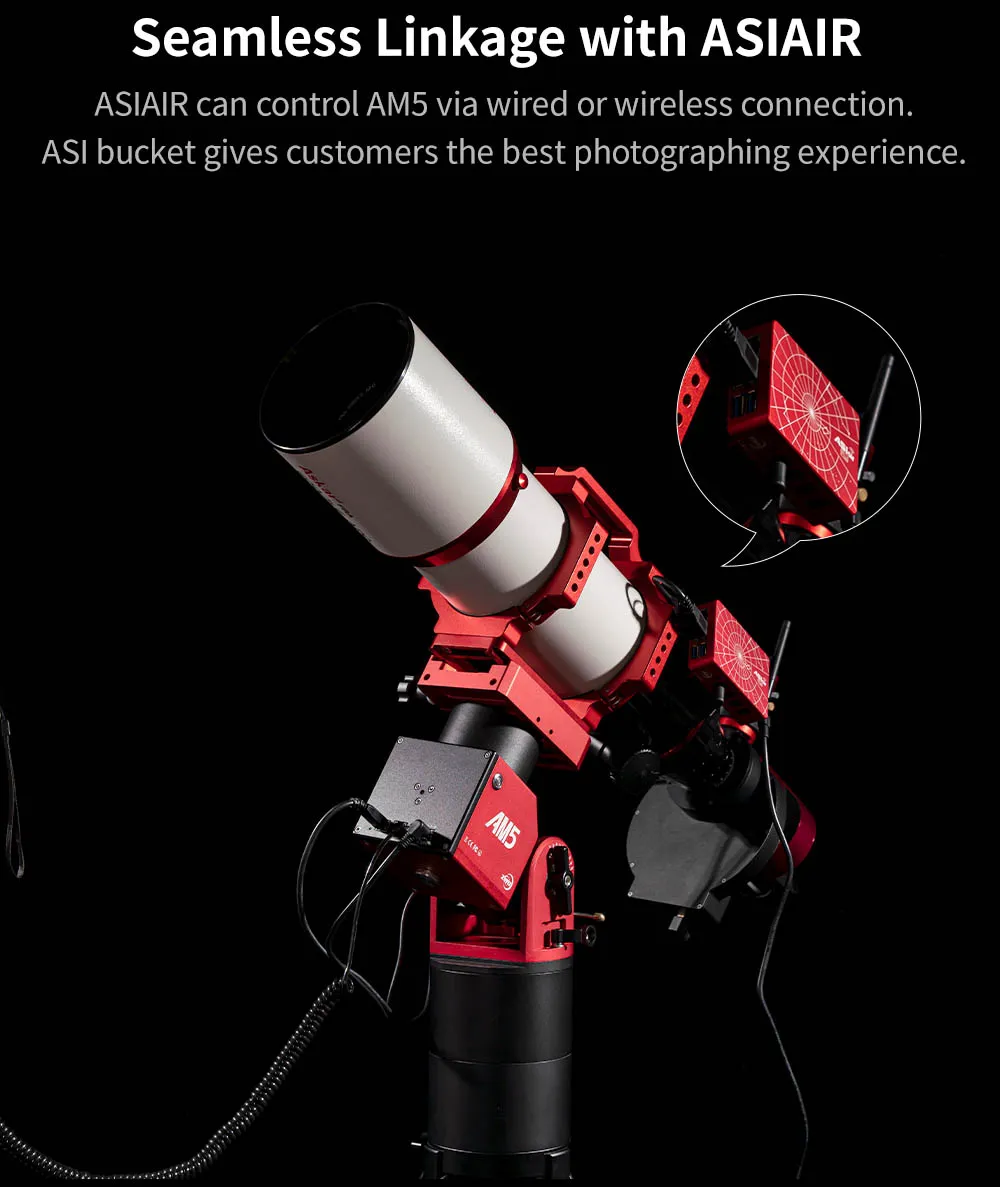 FEATURES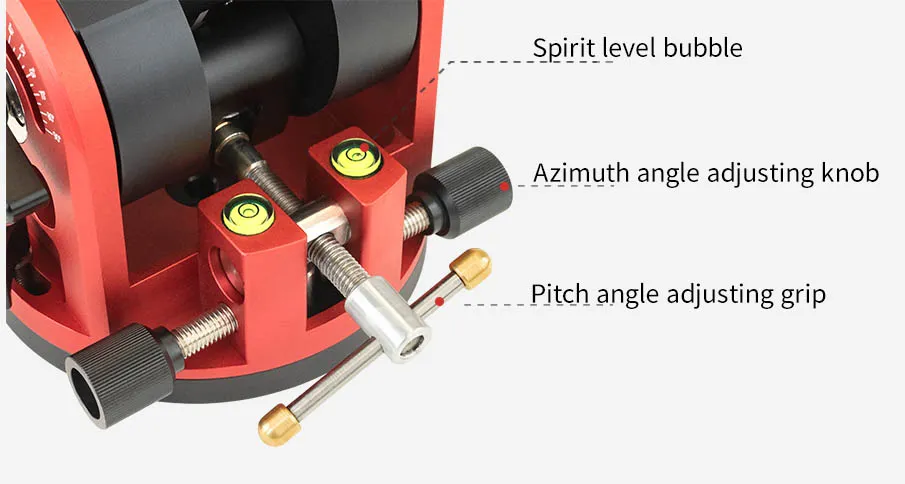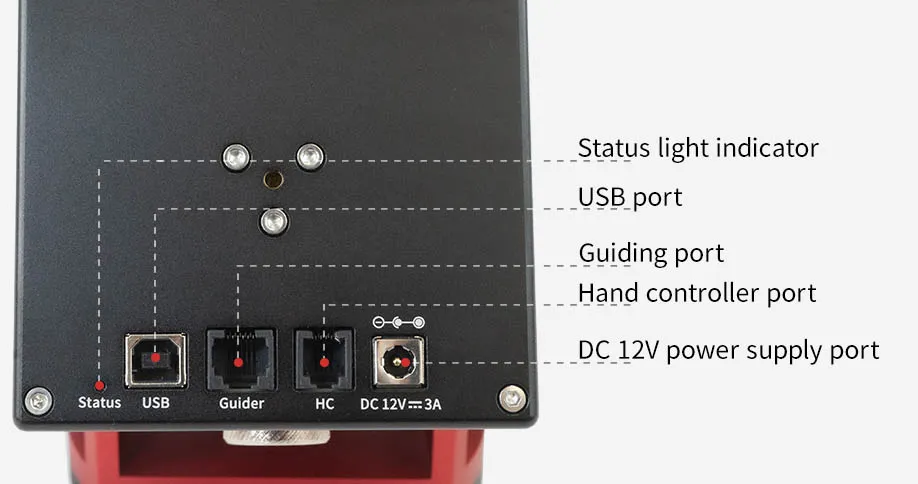 SPECIFICATIONS

| Mount Type | Equatorial Mount
| Mount Modes | Germa Equatorial Mode / Alt-Azimuth Mode
| Drive | Harmonic Drive + Synchronous Belt (Reduction ratio: 300:1)
| Periodic Error | < +/- 20"
| PE Duration | 432 seconds
| Drive (RA) | Harmonic NEMA42 stepper motor + Model No. 17 (Reduction Ratio: 100:1) + Brake
| Drive (Dec) | Harmonic NEMA35 stepper motor (Reduction Ratio: 100:1) + Model No. 17
| Load Capacity | 13kg without counterweight 20kg with counterweight
| Weight | 5kg
| Latitude Adjustment Range | 0 - 90 degrees
| Azimuth Angle Adjustment Range | +/- 10 degrees
| Dovetail Clamp | Losmandy and Vixes-style 500g
| Interface Thread of Counterweight Shaft | M12
| Stepper Motor Resolution | 0.17"
| Max Slew Speed | 6 degrees / second
| Slew rate | 0.5x, 1x, 2x, 4x, 8x, 20x, 60x, 720x, 1440x
| Power Port | DC5.5-2.1 (12V-3A)
| Power Consumption | 12V / 0.386A (Standby), 12V / 0.58A (Tracking), 12V / 1.5A (GOTO)
| Guide Port | ST4
| Communication Interface | USB / WIFI
| Zero Position | Mechanical
| Operating Temperature | -20C - 50C
| Power Failure Protection | Yes
MECHANICAL DRAWINGS
WHAT'S IN THE BOX
Share
View full details