ZWO
SKU:ASI183MC
Regular price
$707.00
Sale price
$636.00
Unit price
per
Sale
Sold out
ZWO ASI183MC Colour 4/3" CMOS USB3.0 Deep Sky Imager Camera.
 The new ZWO ASI183 has lots of astro photo potential with its 84% QE peak, 20.18Mega pixels resolution, 15000e full well, 1.6e read noise, 19FPS at full resolution. Each feature means a new posibility!
Although comes with some similar features, don't be confused, this is not to replace the already well established ASI1600 series; read the below article to get a better understanding of its main area of "expertise" and see if it is the ASI183 or ASI1600 that would fit your telescope setup better. Shortly, this camera would very well fit small, fast ED doublet or triplet apochromats, achromates and small, fast Newtonian telescopes.
(fast means small number in the focal ratio, i.e. f/4, f/5, so that exposure times can be much shorter than with an f/8 or f/10 instrument, hence it's called fast)
Introducing the ASI183 camera series, the most sensitivie cameras in ZWO history. Peak Q.E. of the mono sensor reaches 84%!
Diagonal size 15.86 mm, approx. 20.48M effective Pixel count (available with Monochrome or Color CMOS Image Sensor)
High-Speed and High-Picture-Quality Rolling Shutter-Type Back-Illuminated CMOS Image Sensors
In the astronomic application field, the Sony IMX183CLK-J (monochrome) and IMX183CQJ-J (color) sensors use a very high sensitivity back-illuminated structure with high resolution 2.4 μm square unit pixel. 
The optical size is 1 inch. (don't worry about this if you don't know what it means...it's a historic figure, the main thing to know is that the diagonal size is 15.86mm)
Astrophotography Performance
The ASI183 cameras has a very large full well capacity(15000e) for such small pixel size, 1.6e read noise @ 30dB and 12stops dynamic range @ Gain=0.
The ASI183 cameras also utilize firmware features to minimize amplifier glow for maximum performance in astrophotography.
High Speed
Fast FPS can be used in solar and lunar imaging, as well as for live viewing/EAA.The high speed readout may also be used for real-time focusing, true lucky imaging of double stars and other small objects, planetary imaging of the major planets in the solar system, and much more.
10Bit ADC
5496×3672    19fps
3840×2160    41.04fps
1920×1080    80.10fps
1280×720      117.30fps
12bit ADC    
5496×3672    19fps
3840×2160    36.12fps
1920×1080    70.48fps
1280×720      103.23fps
High Quantum Efficiency
Sony's back-illuminated Exmor R technology, giving it excellent Deep Sky performance. ASI183 QE peak reaches a remarkable 84%. In Ha channel, QE is still over 60%.
Having high QE means more of the light that enters your telescope and reaches the sensor is actually used. With 84% peak Q.E. and no less than ~50% within the visible spectrum, the ASI183 will utilize a high percentage of the light that reaches it, improving your signal quality.
USB 3.0 Port & ST4 Port
USB 3.0 Port: Provides 5Gb bandwidth to make it possible for ASI183 to run at 19 fps (12bit, normal mode) or 19 fps (10bit, high speed mode)  at full resolution (20.18Mega). (Bear in mind, you'll need large storage capacity on your computer as a video at this resolution will create a very large file...
ST4 Port: Can be used to connect with auto guide port of mount, for guiding. (Due to the comparatively large size of the chip, this function would be rarely used, unless this camera is used as a guide camera on a system with a really large telescope next to it....)
Mechanical Drawing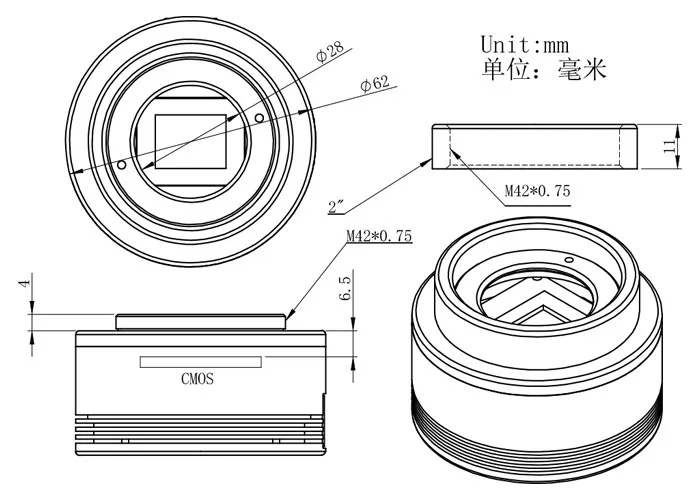 What is in the box?
The ASI183 box includes all necessary cables, adapters, and manuals.
Notice: Cooled cameras need a 12v power adapter, If you don't have one, please click this link to buy a 12V power adapter.
Drivers and Software:
You can find the latest camera drivers and links to many DSO and Planetary capture software on the manufacturer's website. Please make sure the most up-to-date driver and software has been installed before you start shooting:
Share
View full details