ZWO
SKU:ZWO-FF65-APO
Regular price
$1,356.00
Sale price
$1,221.00
Unit price
per
Sale
Sold out
ZWO FF65 APO: The Ultimate Quintuplet Air-Spaced APO Telescope
Main Features:
Quintuplet air-spaced APO design for superior image quality
No need to calculate back focus; saves time and hassle
Produces small and round stars for stunning astrophotography
Compatible with various adapters (M68/M54/M48) for versatile connections
Dual-speed (1:10) self-flattening focuser for precise adjustment
No separate field flattener required; hassle-free setup
The ZWO FF65 APO is a refractive astrograph designed with a powerful flatfield optical system, eliminating the need for an expensive field flattener. Say goodbye to the trouble of calculating back focus distance and connecting multiple accessories. Simply connect any necessary accessories, focus your target, and achieve perfect imaging. This convenient setup saves time, allowing you to focus on capturing remarkable images.
The FF65 APO is also an excellent choice for visual observation. It accommodates diagonals, various eyepieces, and high-magnification eyepieces for observing planets with exceptional detail.
This compact and lightweight telescope weighs only 2kg (OTA) and 2.8kg (full package). With a 65mm aperture, f/6.4 focal ratio, and 416mm focal length, it offers excellent control of chromatic and other aberrations thanks to its quintuplet design featuring two ED glass elements.
The FF65 APO supports full-frame imaging and provides a fine spot diagram with minimal peripheral star distortions. It features a 2.5" rigid focuser with a new-type 360° rotator, scales, and a finder base. The telescope comes with M68, M54, and M48 camera adapters, including a 2" female thread on the M48 adapter for filter installation.
Specifications:
Aperture Size: 65mm
Focal Length: 416mm
Focal Ratio: f/6.4
Objective Lens: Quintuplet air-spaced APO (including two ED glass)
Image Circle: 44mm
Observing Mode: 121mm
Imaging Mode: 76mm (M48x0.75), 105mm (M54x0.75), 130mm (M68x1)
Rear-End Thread Type: M68x1-M54x0.75, M54x0.75-M54x0.75, M54x0.75-M48x0.75 (M48x0.75 filter thread inside)
Total Length: 328mm (dew shield contracted), 360mm (with 3-piece adapter, dew shield contracted), 388mm (dew shield fully stretched with 1.25" eyepiece holder), 420mm (with 3-piece adapter, dew shield fully stretched)
Rear End of 3-Piece Photographic Adapters: M48x0.75
Experience the convenience of the self-flattening design and exceptional imaging capabilities with the ZWO FF65 APO. Start your astronomical journey today!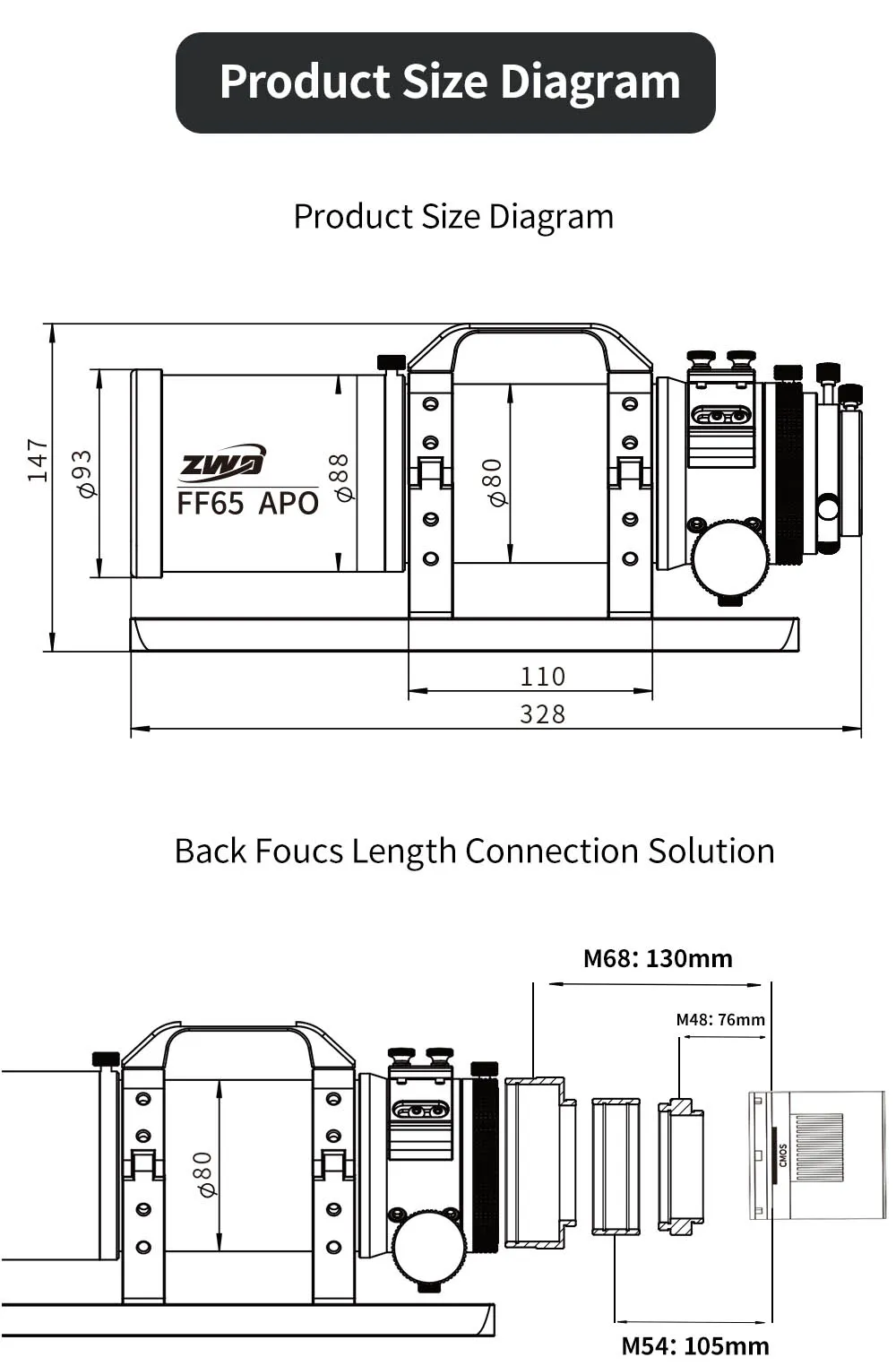 Share
View full details